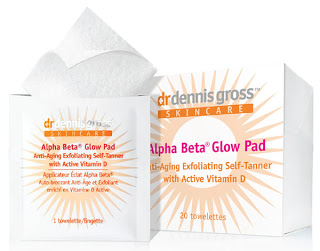 You and your face had best be counting down the minutes until February 25, 2011. Because that is when the facial self-tanner of a lifetime drops and you'll surely want to get in on the best one I've tried to date. Here's why:
The primal issue for all copy-paper white vixens (who try not to be) is striking the perfect balance of how often to tan your face. Body I have down. I swathe my situation my Kate Somerville Somer360 Tanning Towelettes. I'd also use it on my face (ONLY because Kate Somerville is also a skin care brand; if it weren't, you'd best believe I wouldn't wipe it on my mug). But after a few days and several showers and face washings later, my body's still looking honey caramel while my face is back to institution-wall white. Not sexy. What to do? I didn't want to use an entire body towelette just on my face. I tried cutting them up and splitting them into ziplocks, but that just ruined the experience and I'd have to unfold the whole towel, cut it back up, then separate it. It was much like ordering frozen chicken in bulk and splitting it up into freezer bags. I don't have time for that ish.
Enter the life-changing Dr. Dennis Gross Skincare Alpha Beta Glow Pads ($32 for 20 pads–naturally I'll hoard them). I have received SO MANY compliments since using them twice a week. In the doldrums of winter, getting Vitamin D is a challenge not unlike finding a single man who's normal in Manhattan. It's nearly impossible. This pad boasts the elusive sun-given vitamin and Soy Protein to leave your skin REALLY glowing (and I'm not just saying that; I find the word "glow" is the most overused in beauty copywriting), while AHAs exfoliate dry, dull skin and minimize dark spots. Best of all, it won't streak, nor does it smell like your garden-variety self-tanner, thanks to its microencapsulated DHA. It boasts a laundry list of good-for-your-skin ingredients like Glycolic Acid, Lactic Acid, Willow Bark Extract (to exfoliate), and Vitamins A, C and E.
I only hope Dr. Dennis Gross comes out with a larger Glow Pad for body before I have to unveil mine on the beach this summer.
The Dr. Dennis Gross Skincare Alpha Beta Glow Pad will be available on dgskincare.com.
Like this post? Don't miss another one! Subscribe via my RSS feed.