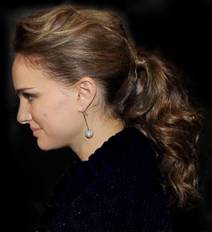 We can't mention Mila Kunis at the 2011 People's Choice Awards without mentioning her on-screen nemesis (psychological or otherwise) Natalie Portman, can we? Hairstylist John D created a sophisticated and fresh pony using Phyto products. Here's how he got the look, in John's words:
1.

      
 I started by prepping Natalie's towel dried hair, spraying the Phytovolume Actif at the root to build in some lift.
2.

       
Then I used equal parts Phyto 7 & Phyto Professional Glossing Cream (about a pea size drop of each) and emulsified that combo into his palms and ran it through the ends of her hair. This step builds in extra moisture and shine.  Which is great for hair that gets styled often.
3.

       
After drying Natalie's hair, I began curling. Using a 3/4″ Enzo Milano curling rod on sections about 1″ square. Concentrating on getting lift at the base/root area.
4.

       
After curling, I gave the hair a light misting with the Phyto Professional Workable Holding Spray. Then gave it a quick comb with his fingers.
5.

       
Next I sectioned out a small top section/bang area (to be pulled  back). Then I began pulling Natalie's hair back into a ponytail.  
6.

       
After securing the pony, I released out that top section. Maintaining lift, parted slightly to the side.
used any remaining length from that top section and wrapped it around the base of the pony to conceal the elastic band.
7.

       
I finished off the look with a final spray of the Phyto Professional Workable Holding Spray.
I think it's a very pretty pony look and love how FULL it is. You may need to get knocked up for volume like that in your ponytail, but perhaps it's worth it? Just kidding.



Like this post? Don't miss another one! Subscribe via my RSS feed.