Guys, I've been having a '90s-themed holiday season in general, and it's not just me. From the first time I witnessed a fellow pedestrian rocking Doc Martins again next to me on the street a couple months ago, I started to feel my inner 17 year-old dying to employ her favorite hair and makeup tricks (and even fashion, we'll cover some of those trends in the coming weeks). Longtime BBJ readers know my theory about '90s fashion (if you don't, read up on it here) and why it was so heinous, but even my plaid-hating heart loves the modern take on the formerly unfortunate period from an aesthetic standpoint. Plus, to fully set the scene sans Clinton Administration, Andrea, Dina and I have even been back in touch with select '90s beaus of yore, purely by chance. Smells like Teen Spirit in here, n'est-ce pas?
Here are some new nineties nostalgia beauty products that will make you feel as glamorous as a supermodel circa the David Fincher-directed Freedom '90 video.



Clarifying Shampoo
I don't know about you, but I hadn't thought about using a clarifying shampoo since I was getting Zest-fully clean in my shower with all my 2,000 parts. Speaking of clarifying shampoos (PS Neutrogena reintroduced their signature one as well recently) Redken has introduced a line so fabulous, it deserves a PARADE and it's called Nature's Rescue, which includes a fantastic marine ingredient-rich sulfate-free clarifying shampoo. I'm OBSESSED to the point where I've introduced a permanent new step in my already 14-steps-long routine. I'm blown away by the brand's new Nature's Rescue Refining Sea Polish, a hair EXFOLIATOR. I know you're all, "Wha?" so allow me to fill you in. It's a between shampoo and conditioner product wherein you scrub the length of your locks (not the roots) with a grainy polish with slip. Separate your hair into sections and rub it in so that it's evenly distributed, then rinse. You'll feel an IMMEDIATE difference while your hair is wet. And you'll just about die when your hair is dry. It's much shinier, cleaner-looking and swingy. I can see myself decanting it into 3 fl. oz. bottles for travel and having Rain Man-style fits when I forget to bring it. Lastly, a rich conditioner and Radiant Sea Spray which imparts beachy texture and a time-released oceanic-inspired scent will allow you to channel your inner water nymph, whom you and I both know is DYING to break free, in select the words of Freddie Mercury complete the collection. Find out more about the Redken Nature's Rescue line at redken.com.
White Eye Liner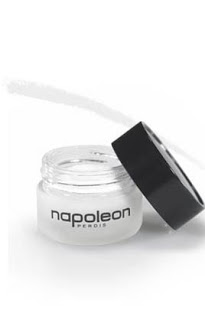 Until the epic Napoleon Perdis decorated my lower lid with his modern gel iteration of the '90s staple, I hadn't rocked the stuff (in '97, the "stuff" was my trusty Wet n' Wild pencil) since I stepped off the soccer field to play my last game as right half-back (number 21!). At an event held at his New York pied a terre, the Greek-Australian makeup maven made me over (I'm all I wanna beeee) and complimented my Napoloen Perdis China Doll Gel Eyeliner (Alabaster) on the lower lid with a wash of a lavender, light yellow and gray shadow combo on my upper lid. His Boudoir Mist Spray Foundation covered all manner of unevenness on my grill sans concealer, while he used a smidge of pearlescent pink SHADOW on my cheeks on either side of my nose to make me look as if I were permanently bemused. Which I was while I was there, BT dubs. My gal Sarah even said that she was surprised she had pants on, she was so charmed by him. If you ever are in the same dance space as the great NP, I advise you to accost him and insist he do your makeup. You won't be sorry. And in the meantime, get involved with ALL of his products at shop.napoleonperdis.com.
And tell me: Are you intoxicated by the smell of Salon Selectives at the mo'? What '90s tendencies have you readopted–from a fashion, beauty, or man standpoint? Share HOROWITZ in the comments. Go.
Disclaimer: Select items from both lines provided by the respective brand PR for editorial consideration.
Like this post? Don't miss another one! Subscribe via my RSS feed.