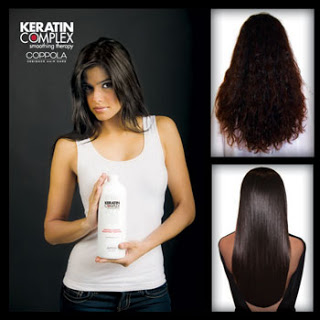 Truly. It's not that complex. The deal? In exchange for a hungie ($100) and an hour of your time, you get perfectly smooth, hydrated locks that last six weeks, they DON'T make you look like you're in an Axl Rose lookalike contest in the beginning, AND you can even wash your hair after a mere eight hours instead of playing that stringy, dirty hair game for four days. Oh, and the best part? My hair has just as much volume as it ever did and holds a curl just fine, unlike with other keratin treatments I've experienced.
I underwent the service at one of my favorite beauty sanctuaries, Ryan Darius Salon, where one of my fave PEOPLE, Ryan himself, administered the juice. Ryan, you may recognize from LOGO's A-List, or Gay-list, as I like to call this hilar show that also features Ryan's bestie TJ, one of the most fabulous people I know. I so recommend you get the process done here, friends. Ryan's blow-out technique is so epic, my hair had move volume than it did prior to the treatment. When can you say that? We also used the opportunity to catch up and have a quasi biz meeting. He even supplied me with samples of the accompanying Keratin Complex Smoothing Therapy Shampoo and Conditioner and Repair Therapy Intense Rx Ionic Keratin Protein Restructuring Serum, the combo of which made my hair look smooth and lustrous.
Make an appointment for the service at Ryan Darius Salon at 212-255-3579. The salon is located at 8 West 12 Street, on the corner of 6th Avenue. For the love, call up. It's not that complex.
Disclosure: Service provided gratis for editorial consideration.
Like this post? Don't miss another one! Subscribe via my RSS feed.