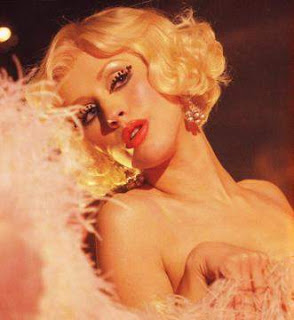 Happy Monday, friends! It's been a while since we've done a little Q&A with a movie makeup artist and those are my fave features, so I've remedied that situation right up and chatted up the gal responsible for the theatrically gorge cosmetic concepts on Burlesque. I saw the movie over Thanksgiving and left the theater with a massive urge to recreate Christina Aguilera's perfectly highlighted pin-up cheek. Burlesque Makeup Department Head Cindy Williams so graciously agreed to answer my many questions about designing the magnificent makeup looks for the movie to which everyone's inner gay needed in their respective lifestyles. Without further ado:
Beauty Blogging Junkie: Tell us a little about your background!
Cindy Williams: I moved to LA from Minnesota 20 years ago. I went to hair and makeup school in there and became an assistant makeup artist for films like Hot Shots, Benny and Joon and What's Eating Gilbert Grape. My first department head make up job was on The Jungle Book, then I went on to do Beautiful Girls, Something About Mary, America Sweethearts, I did Catherine Zeta Jones in Chicago, Intoleralble Cruelty, Oceans 12. Then I did GI Joe, and Burlesque, just to name some of my movies.

BBJ: How did you come to work on Burlesque?
CW: When I first heard about being part of Burlesque, I knew it would be a dream makeup opportunity. Director Steven Antin had asked me to department head his new movie based on a highly stylized makeup setting which to me referenced similarities to my work on Chicago. But Steven wanted to take this film to a whole new level of fashion. Burlesque contains 13 individual dance numbers, all with completely different looks. 
BBJ: How did you come up with the various looks for each of the numbers?
CW: I collaborated long hours with Steven. Producer Clint Culpepper and hair department head Martin Samuel and I worked to recreate classic Hollywood, Vaudeville, '60s and Vegas images, requiring many detailed storyboards for each dance routine. Countless breakdowns were laid out and a well seasoned makeup department was established including Amy Schmeiderer (my right-hand), Peter Oliviera, Sabine Roller Taylor, Kandace Westmore for body makeup and airbrush, Kevin Westmore covering the set tent with 150+ background players, Kentaro Yano, Rick Stratton and Christien Tinsley creating tattoos. Personal makeup artists Kristopher Buckle (Christina Aguilera), Leonard Engleman (Cher), Simone Alemekias (Kristen Bell) all did their artistry as well. 
BBJ: What was the set like? 
CW: There were six trailers, huge tents with 15+ stations covering body makeup, airbrush makeup, tattoos and a makeup room on state with six stations. 
BBJ: Tell me about the uber-glamorous eye concepts! What did you use to create them?
CW: We used the brightest colors from MAC Cosmetics and Make Up For Ever and custom made long, full lash sets from Christina Smith, which were applied to the 30+ dancers and actors. 
BBJ: What was most challenging about working on such a production?
CW: Because of time pressure, it was imperative to be well organized on each 15-hour workday, often altering original colors with sweating dancers and only seconds on set for touch-ups. Unusual red and blue theatrical stage lighting, smoke filled rooms and take after take of shooting meant everyone's makeup had to be skillfully readjusted to retain our intended image. To me, Burlesque presented many challenging demands giving each character a multitude of looks. This shared experience allowed each artist to relearn and expand on their skills. In the end, we all learned from each other and improved as individual makeup artists. 
BBJ: What are some of your best makeup tips you've gleaned over the years?
CW: 1. 
Always shape your brows even if it's a very light color.
2. I like to add a little highlight on the T-zone and under the eyes.
3. I also like to use a dark liner on the lash line only with a good lengthing mascara ( and don't forget to curl your lashes).
BBJ: I'm sure you have access to a ton of the latest and greatest in makeup. What are some products you're loving at the moment?
CW: Here are some of my latest favorites:
1 Brows A Go Go and eye shaping kit by Benefit
Thanks so much, Cindy! And tell me: What did you think of the makeup in
Burlesque
?
Like this post? Don't miss another one!
Subscribe
via my RSS feed.