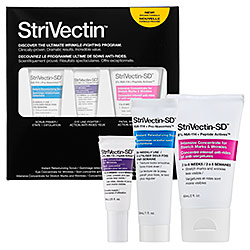 Sparkle, Neely, sparkle: This is the 2010 BBJ Holiday Gift Guide. For more gift-worthy items for everyone on your list, check out my other offerings.
 Though her skin magically looks at least 20 years younger than her age of 90, my grandmother does next to nothing to keep it that way. She moisturizes but–would you BELIEVE–hasn't used eye cream until I shrieked that she get involved at the age of 89? I can't help but wonder if her skin would mythically get even younger like the effects of the youth drink in the Puffalumps movie where the main characters escaped via their mirror into a world of whimsy  (which I credit for my obsesh with mirrors and why I have approximately 25 in my stu-stu-studio) if she were to get on a for-reals anti-aging skin care regimen like StriVectin's Gift of Discovery Kit.
It contains the brand's Instant Retexturizing Scrub, Eye Concentrate for Wrinkles and Intensive Concentrate for Stretch Marks and Wrinkles.
It'll be a great experiment to see how she fares with the power of peptides on her side.
The StriVectin Gift of Discovery Kit retails for $79 at Sephora
Disclosure: I was provided with a press sample for editorial consideration.
Like this post? Don't miss another one! Subscribe via my RSS feed.