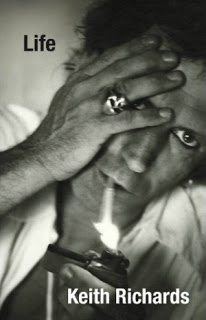 By Carol (my mother) 


What a trip! I finished reading Keith Richards's tome of a biography last week and I miss him already.  He's great company – funny, eccentric, a terrific raconteur with a passion for living.  He's also (with the help of James Fox) an engaging writer.  He tells the truth, even the unsavory bits, and believe me there are plenty of those.  He'll deign to explain, but he doesn't make excuses.


Like his fellow Sagittarius, Frank Sinatra, he's lived life his way. Also, like Frank, he has reached the pinnacle of show business success but always retains that "salt of the earth" quality of his background in Dartford, England.  In the "Ol Blue Eyes" manner, he can move through many milieus–gangster, socialite, multi-ethnic, artistic, etc. He can also be starkly blunt, a difficult, demanding taskmaster, scary at times, with a hair-trigger temper yet always emotionally honest, vulnerable and sexy as hell in his music. Plus, he gets a huge kick out of performing–he describes it as akin to levitation.


He thinks like the bandleader he is and even structures the book in a kind of musical way – he figuratively passes the microphone to any number of significant characters in his life and lets them give their take on events. As soloists. Cool.

I'm no musician, but I found his "guitar workshops" fascinating. I think it's because you get a rare, privileged glimpse into the very process of creating.  His joy in discovery is utterly thrilling and inspiring.  Even as a notorious junkie, at his most degenerate, he somehow managed to maintain his musical discipline, his devotion to his art.  (He's been clean now for 30 years.)

At times he reminds me of a Carlos Castaneda-style sorcerer – someone unafraid to allow himself to be engulfed in the unknown and come up time and time again with a kind of magic. There's so much more — his relationships, his love of friendship, his musical collaborations, his songwriting, his adventures, his soul-deep sense of style.


Keith, you devil, you make me want to live my whole life over again — more bravely, more fully, more  everything.


Read this book.
Like this post? Don't miss another one! Subscribe via my RSS feed.