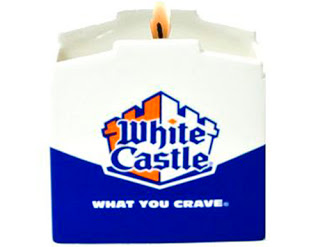 Weren't you just saying to your pals Harold and Kumar, "Oh, hey, guys? Next time we crave some delish-pants mini burgers, I'd just LOVE to pick up some home fragrance in the same beef and onion scent"? 
Well you're in LUCK. White Castle and Nest Fragrances have teamed up to introduce the Slider Scented Candle with notes of burger and onion. 
Um, vom! Would you ever buy this? I don't even think the most epic WC fan in the WORLD, my brother, would want to light one of these bad boys.
Disclosure: I don't own this.
Like this post? Don't miss another one!
Subscribe
via my RSS feed.