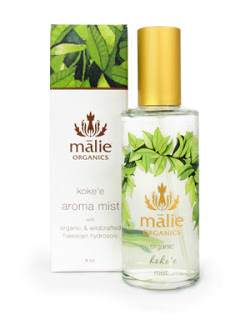 Malie Organics was one of my best Hawaiian discoveries, among a list of other amaze delights including but not limited to mahi-mahi tacos, Kona coffee and Kauai Pie ice cream from Lappert's, mai tais and cute surfers.
It's only fitting that on Hawaii's Garden Island (as Kauai is dubbed), there should be a beauty brand capitalizing on the indigenous flora of paradise by bottling it. The heavenly fresh scents were bright, subtle and unique. After getting involved with a bottle Erika had in her house, I had to pick up my own bottle of Malie Organics Organic Mist in Koke'e ($40). Don't you love how Hawaiians love a glottal stop more even than Carrie Underwood does in my new favorite song Undo It?
(Boy, you blew it, you put me through it
I wanna uh-uh-uh-uh-uh-undo it)
This green scent is soothingly natural and will kick your winter cabin fever in the gut with a simple spritz.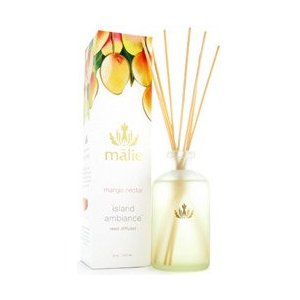 I also picked up Malie Organics Island Ambiance Reed Diffuser in Mango Nectar ($69), which smells delightfully of a fresh peach/mango combo, not the saccharine-laced synthetic version reminiscent of '90s Victoria Secret-style body splash. This scent sparkles and thrills me when I come home from a weekend away. The saleswoman told me that this diffuser will last over a year thanks to its strong, concentrated juice and I don't doubt that I won't have to stock up again when I (hopefully) hit up Hawaii again this January.
Between the lush, dazzling scents of the island and Kauai's stunningly smooth radio station FM 97, which manages to play a line-up of fabulously appropriate late-80s slow jams you'd forgotten about that you thought only you loved–for example, The Jets' Crush, Gloria Estafan's 1,2,3,4 and Breathe's Hands to Heaven–I can totally understand why so many people get pregnant on their Kauaian honeymoons.
Just saying.
Purchase Malie Organics products at malie.com.
Disclosure: I purchased these items myself.
Like this post? Don't miss another one! Subscribe via my RSS feed.