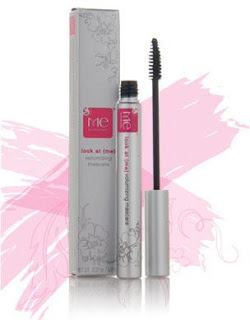 BBJ's Official Mascara Correspondent Ashleigh Cicucci is back with another review. This time, she gave Me By (Me)Zhgan  Look at Me Volumizing Mascara ($19.50) a whirl. Founder Mezghan Hussainy, BT dubs, is the girlfriend of American Idol's Simon Cowell. Oh, and she pronounces it "Mish-gan." I've been wondering about that one for a while. Anywho. Here, Ashleigh's thoughts on the mascara.
I was excited to see what this tiny brush would do (it's nearly half the size of a "regular" small brush.)  The first coat of this black mascara was wispy, but dried very quickly.  Upon moving on to coat two, the brittle base of the first coat made it nearly impossible to apply without turning into major Tammy Faye lashes.  I combed through my lashes and moved on with my day. When I went in for my afternoon touch-up, I actually liked the results. I'm not sure if it had to do with my natural oils breaking down the formula throughout the day or what, but I was left with full, flirty, nighttime lashes.  While this formula removed easily with soap and water, it's not redeeming enough.  
The final verdict: I wouldn't purchase this one.
Disclosure: A sample of this item was provided by brand PR
Like this post? Don't miss another one!
Subscribe
via my RSS feed.