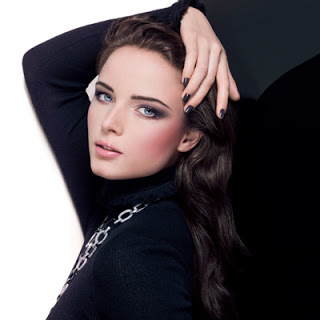 It's already on counter, and you simply must forgive my tardiness in posting this epic collection. This summer, I was just too focused on–well, summer to write about the fall collections until now. CHANEL Beaute boasts one of the best. My fave part of the collection? The nail polish in Paradoxical, a hematite-ish deep purple I've been rocking for weeks now.
Coco Chanel's iconic style was a study in contrasts. She boldly mixed black and white, masculine and feminine, classic and modern. Paying tribute to her unique vision, Peter Philips, Global Creative Director of CHANEL Makeup, has created a makeup collection for Fall 2010 that brings bold emphasis to the eyes, and keeps lips soft and delicate.
JOUES CONTRASTE POWDER BLUSH
Sheer, natural-looking JOUES CONTRASTE — the blush that has attracted a devoted following for years — brings a modern freshness to cheeks with three new shades: Pink Explosion, a luminous pink; Rose Temptation, a shimmering rosewood; and Plum Attraction, a bold glistening plum. This lightweight powder glides on beautifully and wears for hours without fading or changing colour. $42
ROUGE COCO HYDRATING CRÈME LIP COLOUR
The new classic lip colour plays up innocence and femininity with three new shades — Chalys, a delicate coral; Rose Dentelle, a tender pink; and Chintz, a soft peach — that beautifully offset bold eyes. $30
LÈVRES SCINTILLANTES GLOSSIMER
A glossy finish is achieved with the cult-favorite LÈVRES SCINTILLANTES Glossimer in four new shades: Petite Pêche, a pale peach; Coral Love, a bright coral shimmer; Rose Dilemma, a soft pink; and Teaser, a vivid pink. $27
LES 4 OMBRES QUADRA EYE SHADOW
The essential eyeshadow compact with unlimited options, now in Enigma, the bold new colour harmony, features a shimmering peach, deep plum and two iterations of deep smoky grey. $56
OMBRE ESSENTIELLE SOFT TOUCH EYESHADOW
Two new shades of OMBRE ESSENTIELLE Soft Touch Eyeshadow bring further depth to the season's dramatic colour palette: Taupe Grisé, a chocolate grey, and Vert Khaki, a cool khaki green. $28.50
STYLO YEUX WATERPROOF LONG-LASTING EYELINER
Eyes become the focus when rimmed with a precise stroke or softly smudged line of STYLO YEUX WATERPROOF Long-Lasting Eyeliner in new Cassis, a pitch-dark plum. $28
The trend-defining nail colour — Paradoxal, a dark grey-violet — emerges as the new statement-maker of the season. $23
Available at CHANEL.com
, CHANEL boutiques, and department and specialty stores.
Like this post? Don't miss another one!
Subscribe
via my RSS feed.