Gals, Dani Stahl, (real life Serena van der Woodsen featured in Dove's Go Fresh Gossip Girl: Real NYC stories revealed) answered some of my questions about her dream career as a fashion editor at NYLON magazine. Read on for more deets on how Dani got started to what city she finds the chicest, to what products she's using on her covetable hair.
Beauty Blogging Junkie: Were you always drawn to fashion? Is there a defining moment that you remember when you fell in love with fashion?

Dani Stahl: I was always drawn to fashion and always LOVED magazines and accessories. I think it is part of my DNA! I started interning in high school at a sweater company designing patterns. Eventually I ended up interning at ELLE, and it was all uphill from there! Since my mother is a vintage jewelry fanatic, I have always been around beautiful jewelry, and that led to my love of jewelry and designing for Lia Sophia.

BBJ: What inspires you? A certain time period, movie, art exhibit, etc.?

DS: Everything inspires me – inspiration is everywhere – you just have to keep your eyes wide open and you will see it!

BBJ: Where are you most inspired geographically?

DS: I am fortunate to travel to so many fantastic places in the world, but there is nothing more chic than Paris! French women have a way of wearing clothes that is unparalleled!

BBJ: What do you like most about working for NYLON? What's most challenging?

DS: There are so many great things about working at NYLON that I don't even know where to start! I think the main point is that NYLON is the hub of what is hip and creative – anything goes! There is so much opportunity to do so many different things and be involved in so many different types of projects that it NEVER gets repetitive or boring! This month marks my ninth year at the magazine! Of course it is challenging, but that is what makes it so great! You can see how I juggle the pressures and challenges of work on Monday, May 18 during Gossip Girl on The CW at 8/7c. My story about growing up, surviving and succeeding in NYC is part of a new video series GOSSIP GIRL: Real NYC Stories Revealed, presented by Dove go fresh – so don't miss it!
BBJ: What are some of your favorite brands? What under-the-radar brands are you loving?

DS: Like most girls, my ultimate favorites are Chanel and Louis Vuitton. Other European fashion houses like Balenciaga, Givenchy, Lanvin, and Miu Miu are oh-so-chic, and there is nothing more American classic chic than Ralph Lauren. Currently, I am loving the newer generation of big designers like Alexander Wang, who took the hipster crowd by storm, and Undercover, a Japanese designer.

BBJ: What is the best bargain you've ever scored? What's the most expensive item you've ever caved on?

DS: I just got the sickest pair of vintage combat boots at a flea market – I have wanted a pair just like them for years. They are the kind of item you see in magazines and the credit reads "stylist's own" and you know you are never going to find them, but I finally did! Years ago, I caved on a vintage CHANEL suit. It was on major sale but it was still A LOT of money. I had to have it. Most recently I splurged on a Balenciaga motorcycle jacket. It was worth every penny – I never take it off!
BBJ: What are your top 5 favorite beauty products?

DS: My favorite face products are Mario Badescu and Dr. Victor. The hair products I use are Kerastase and Shu Uemura. The body wash I am currently obsessed with is Dove go fresh Burst Body Wash – I love the scent! My body lotion is Dermalogica. In the summer I love the Calyx by Prescriptives fragrance – I have worn it since high school.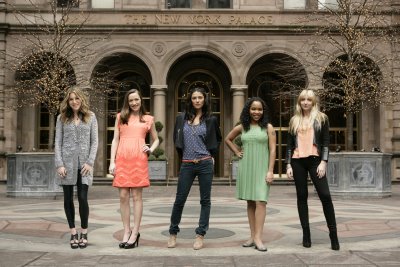 Thanks to Dani for being an excellent interview subject! I know she's usually the interviewer as opposed to the interviewee. Learn more about Dani tonight during the season finale of Gossip Girl. You know you love her!
xoxo,
Amber

Like this post? Don't miss another one!
Subscribe
via my RSS feed.