The What's On Your Vanity Series showcases a single (or, let's be real–mulitple) beauty item(s) the interviewee loves because it's effective, but also she feels she must keep out on top of her vanity because the gorgeous packaging must be displayed.
I can say with full conviction that this is my favorite What's On Your Vanity? entry thus far. Not only is it thorough to the max, but my gal Sharon Clott included a veritable smorgasbord of images of her insanely covetably chic vanity. Can you believe some broad was cool with giving that up in a move? Lay-off be damned, that piece of furniture would come with me to GUAM. Shipping charges would be no object. Sharon, by way of introduction, is one of my favorite fashion (and beauty!) writers and fellow bookclub members (she introduced me to Little Bee and The Girl With The Dragon Tattoo, neither of which should I have lived without). She is a former editor of NYmag.com's The Cut blog, and current editor of the super-cool new MTV Style site. Read on to find out the various and sundry glamorous goods gracing this gal's vanity. In Sharon's words: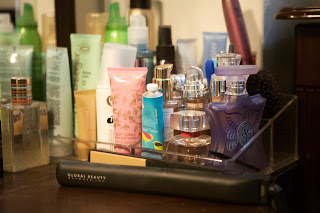 I own very little furniture, but one of the only pieces I own is a four-part vanity set: Mirror, table, chair, and jewelry chest. I bought them off Craigslist two years ago from a girl who was moving away from New York after getting laid off from a banking job. Her loss, my gain!
I'm obsessed with fragrances, so I like to line them up on my vanity and pick whichever one I'm feeling like that day. For florals, I've got Gucci, for nighttime I've got Nina Ricci, and for everyday, I got Chanel (a gift from someone special). There's also Estee Lauder, Nicole Miller, Bond No. 9, and DKNY in there, too. Whenever someone wants to get me something, I say, more fragrance!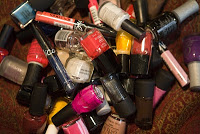 I also keep sunscreen and face lotion handy (Clinique and M.A.C. are my go-tos), as well as multiple products to aid with both wavy and straight hair (my coif just can't seem to make up its mind!). For waves, I grab Sally Hershberger (which is super cheap) and for straightening, I use a few things from Fekkai. I was on CHI for a while, but then I discovered Fekkai, and my hair feels so much better now.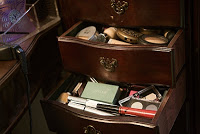 The chest I have is supposed to be used for jewelry, but I use it for makeup and makeup only. I have a drawer just for bronzers, powders, and lotions, a drawer for lips, and a drawer for eyes. The bottom drawer, the biggest one, I use for nail polish. I try every color. I went through a long period of just using Essie Fed Up, but now I've expanded into more color. For example, the last two manicures I got, I used colors from O.P.I.'s Shrek collection.
Like this post? Don't miss another one! Subscribe via my RSS feed.