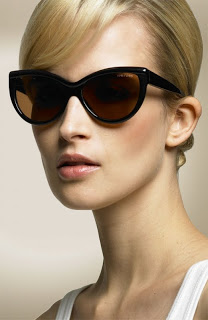 So, I became irrationally obsessed with Bella's super-sexy sunglasses she wears in Eclipse in Florida with her mother. I believe they're Ray-Ban Wayfarers (Edward's character is also a fan). I did a search on the Interwebs, naturally, to confirm this and discovered that a fellow Twi-hard recommended the Tom Ford Anouk Sunglasses instead (pictured, at right). And I was SLAIN.
Unfortunately, they're no longer sold in stores (they're a model from last year) but they ARE on eBay, which is where I picked up a pair in the tortoiseshell (Havana). I can't wait to rock them in two weekends when I drive out to my friend Amber's house in Montauk in her phenom convertible with a headscarf VERY much in the manner of Grace Kelly.
Right? I mean, how could I get in a convertible without the right equipment?
UPDATE: Just found out it's not absolutely definite that I'll be riding out there in a convertible. I may have to rock my '60s screen siren paraphernalia on a far less glamorous mode of transport: Long Island Rail Road. I don't have to tell you how I feel about this. Stay tuned.
Like this post? Don't miss another one! Subscribe via my RSS feed.