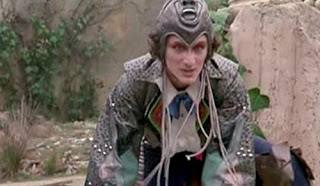 WhoWhatWear.com, one of my favorite sites for its curated fashion selection, but most of all for its sharp, witty writing and nearly-as-obscure-as-BBJ's cultural references. About a year ago, they did a fashion story in their Currently Channeling series (my fave of their series–inspirations range from Howard the Duck to Bob Fosse) referencing my ORIGINAL favorite movie, Return to Oz.
Return to Oz was an opus of cinematic GENIUS–it is to this day. I watched the TERRIFYING but incredibly creative movie more times than I can count as a child. Here's a scene where Dorothy (played by Almost Famous/The Craft's Fairuza Balk) first encounters the Wheelers (that's a Wheeler, pictured above, left):
Is there anything scarier than this? I'm pretty sure my tolerance of horror movies stems from my desire to watch this movie at the ripe age of five. The Wheelers are the film's beautifully made-up antagonists, the evil henchmen of Princess Mombi, a head-exchanging witch. See below for an excerpt of one of Mombi's scenes that freaked me out for years.
I know they're both totes The Essence of Evil, but the Wheelers and Mombi boast a pretty fetching shade of coral eye shadow that I totally interpret into a less intense version for summer nights out on the town. To achieve the look without being mistaken for a sorceress with a penchant for mandolins, mirrors and mugs of other people, I recommend you press on some coral shadow close to the lashline. Line the area first with dark brown liner (black will look too jarring with the pinky red shadow). My favorite Wheeler-chic shadows are the last shade in the Revlon Colorstay 12 Hour Eye Shadow in Summer Suedes ($10) and MAC Cosmetics Satin Eye Shadow in Sushi Flower ($14.50), a standby of mine since my college days.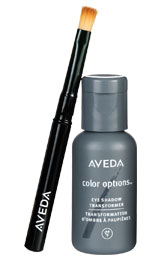 Want to ensure your Wheeler-chic shadow stays put all night? Mix it with a dab of Aveda Color Options Eye Shadow Transformer ($25).  A small amount of this magic oil-free liquid transforms powder shadows into long-wearing creams. Add a bit more and shadow becomes a vivid liquid liner.
It's my go-to Powder of Life when I'm rocking a dark red outfit or want to punch up an all-black ensemble. Have you tried coral red on your eyes? What do you think? And if you're a fellow Return to Oz fan, by all MEANS, let's discuss the wonder that is that movie in the comments.
Disclaimer: Samples of these three items were provided by brand PR
Like this post? Don't miss another one! Subscribe via my RSS feed.