BBJ's intrepid Official Mascara Correspondent Ashleigh Ciucci is back with this week's lash extender: Tube Your Lash. Here, her review: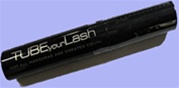 I'm a fan of tube technology mascaras and was anxious to see what this fluffier-than-normal brush would do. Usually, a small brush allows for individual lash application of the polymer formula. The first coat was wispy but didn't do much for definition at the lashline. When I tried to apply a second coat, I got instant clumps to the point where I needed to comb through with a lash comb. Even after the comb, my lashes looked spiky and artificial.
I will say that it was great on my lower lashes; they looked soft and defined but not too intense. Also, there was no under-eye smudge mid-day.
This formula washes off with soap and water (keep in mind that the "tubes" of polymer will slide off into the sink. It will look like your lashes are falling out, but don't fret!). I was happy with my bottom lashes but that's not enough to make me want to buy this baby.
Like this post? Don't miss another one! Subscribe via my RSS feed.