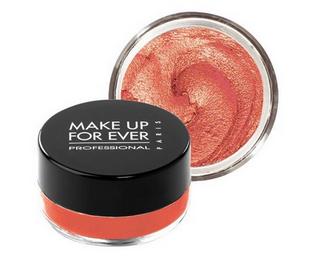 This product actually just sent me on this totally fakakta approach to this blog entry–the complete WRONG one. Allow me to explain: I noticed other people talking about Make Up For Ever Aqua Creams ($22) being for your eyes and I totes got confused as I've been using Make Up For Ever Aqua Cream in 5 (peach with gold flecks–it is such a warm, gorge shade) on my cheeks. Naturally. [Do yourself a favor and get involved with this long-lasting gilded apricot cream that imparts intense color payoff without making you look like a clown. Just slightly bashful and summery.] Not that it would be ridiculous to rock peach shadow. It would look nauseating on me, but I could see it as quite a refreshing look on someone with darker skin. Anywho. I thought to myself I am such a rebel. I've been using something designed for my EYES on my cheeks. 
Big deal, right? I mean, let's be real with each other: I have all the rough edges of a Skittle. You're talking about a person who never tried cocaine because that deaf girl Regina died the first time SHE tried it in the Sweet Valley High series. Parenthetically, every time I see the name "Aqua Eyes," I am reminded by the criminally overused description of Elizabeth and Jessica Wakefield–their aquamarine eyes, blonde hair and perfect size six figures. And THEN, I was going to tell you all about how I couldn't be restricted by using makeup items in the way they were intended. I was going to open with a related side-story about my friend Brian from college and how when we'd take notes during lectures, he always used a unruled notebook and my Type A psyche was concerned about how he could keep his penmanship straight without the help of lines. "I can't be constrained," he'd explain dryly, and we'd laugh. Similarly, I was going to haughtily claim that I also can't be constrained by traditional makeup conventions.
But then, I realized that these items are totally intended for lips and cheeks. And this whole story about my "rebellious" behavior was null and void.
I'm a lot of things, but wild just isn't one of them. You're talking to someone who never got a tongue piercing in the '90s not because it's disgusting (that SHOULD have been the reason), but because she was afraid it would hinder her ability to speak French. And for that matter, I suggest you play it safe by investing in this gem of a cheek color, found at Sephora. It looks good on the full spectrum of skin tones and its staying power will wow you.


Disclosure: A sample of this provided by MUA PR 
Like this post? Don't miss another one! Subscribe via my RSS feed.