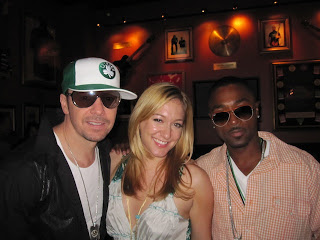 Gals, allow me a brief update. I'm pretty behind on my posts as I've somehow been heavily involved in CASINO CULTURE these past two weeks. I just got back from Las Vegas for my friend Mitch's wedding with a bunch of my guy friends from college. I came back with a cold, a Joan Rivers voice and a pretty severe hangover.
The weekend before that, I went on a press trip to Foxwoods where I met–wait for it–DONNIE WAHLBERG from New Kids on the Block. In the epic words of my gal Tamar, 1988 me had no idea what to do with 2010 me. Check out the pic on the left with Donnie, myself and a member of Donnie's entourage.
My Foxwoods trip included an NKOTB concert, some spa treatments and a couple of delish meals. Stay tuned for my full Foxwoods review!
Image Credit: Racked.com's Danica Lo
Like this post? Don't miss another one! Subscribe via my RSS feed.