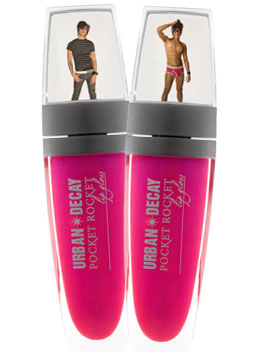 Perfect for prom:
Urban Decay
introduced their scandalous new
Pocket Rocket Lip Gloss
this month
.
It's totes reminiscent of those naked dude pens so popular at such stores as Spencer's Gifts (remember? In the MALL?).
Inside the double-sided cap is a photo of one of eight hot guys. With just the flick of your wrist, you can undress them down to their
undershorts
, in the words of the fabulous
Blanche Devereaux
(and each is pictured both front
and
back)! Thanks to
Fashion Binge
's Tamron for reminding me of that key Blanche quote, BT dubs ("Know him? Why, I left my undershorts on his radiatah!")
Are you ready for the best part? The lip gloss vial is decorated with pheromone-laced ink. I'm kind of a sucker for pheromones, dolls. I guess everyone is, isn't that the point? Undetectable to smell, releasing even the slightest amount of pheromones enhances mood and sexual attraction. Give the tube a little rub to release the magic. You know it, I know it, and Brenda Walsh certainly knew it: There's no better time than prom for some pheromones. Just saying.
Available in eight shades, this highly-pigmented lip gloss formula even plumps. It contains Hyaluronic Spheres (found naturally in the body) to improve cellular function, prevent dehydration, and fill in lines and wrinkles. Each shade is semi-sheer, but UD designed them with multiple finishes: cream, shimmer or sparkle.
Pocket Rocket Lip Gloss is available for $18 at
Sephora.com
, ULTA and select Macy's West locations.
Like this post? Don't miss another one!
Subscribe
via my RSS feed.