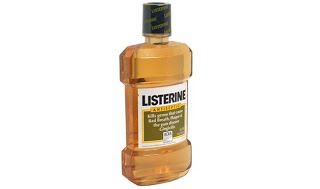 The What's On Your Vanity Series showcases a single beauty item an industry insider loves because it's effective, but also he feels he must keep out on top of his vanity because the gorgeous packaging must be displayed.
So like, a month ago, I asked celebrity colorist (and my colorist and fave Dallas BBQ dinner date) Jason Backe via email to tell me what's on his vanity. You know. For the series. No word back for a long time. I have experience dealing with Jason's occasionally delinq behavior as his former editor at Daily Makeover. I figured he was biz and let it go.
Then, earlier this week, I arrive to a party at the Ted Gibson Salon celebrating Ted Gibson's epic first HSN segment (he sold out his Clip-in Extensions–now only $40–in mere MINUTES) and Jason's there when I walk in, on a ladder plugging in some wires into an elevated TV monitor. "LISTERINE," he screams to me instead of saying hello. I stare at him blankly. Naturally, I'm all, "Wha?" And then I realize. He's answering me in person about a question I'd asked him via email a month ago, much in the manner of Rain Man.
Listerine. Thank you, Jason!
Like this post? Don't miss another one!
Subscribe
via my RSS feed.