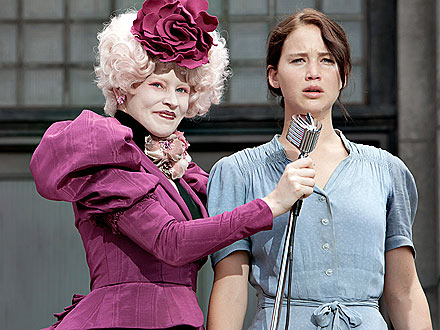 Get ready, friends, as I fully anticipate this site will become The Hunger Games Blogging Junkie as we approach the March premiere of the movie. I just got word that Joico's color and style team helped create all the bright and bold hair designs for the cast.

Joico Guest Artist and Hollywood Stylist Cherry Petenbrink (in collaboration with Hair Department Head Linda Flowers) was tapped to create the hair color designs for the film's leads–Jennifer Lawrence, Stanley Tucci and Elizabeth Banks–and she went with Joico Vero K-PAK Color. She and the other stylists who worked on the five-month shoot turned to the new K-PAK RevitaLuxe and Smooth Cure Smoothing System to maintain the cast's hair. Cherry also reveals that Joico Design Collection stylers, Spiker and Spiker Blast, Joico JoiMist Firm Hairspray and Joico Brilliantine Pomade were the go-to formulas for designing and maintaining the film's futuristic hairstyles.
What do you think of the hair in the trailer thus far? And are you ALSO going to see the flick at midnight on opening day?
Like this post? Don't miss another one! Subscribe via my RSS feed.