I always love fashion for a good cause. Of course, it always helps if said fashion item is cute, and that is absolutely the case with the new FEED bags sold at Lord & Taylor. Did you know that according to UNICEF, "Guatemala has one of the worst nutritional conditions in the region.  Nearly 23% of children over three months and under five years of age suffered from general malnutrition, while almost one-half suffered from chronic malnutrition in 2006."? It's a stunning statistic and Lord & Taylor and FEED Projects are committed to doing something about it.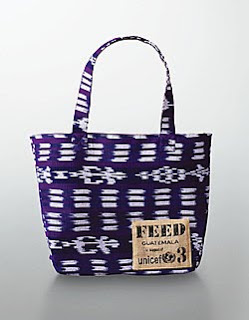 Lord & Taylo
r partnered with FEED Projects to exclusively sell a
"FEED 1 Guatemala" pouch and "FEED 3 Guatemala" tote
(pictured, left), available now. Under the leadership of
Lauren Bush
, CEO, Creative Director and co-Founder of FEED Projects LLC, funds raised through the purchase of the bags
will help the United Nations Children's Fund (UNICEF)
provide daily nutrient powder for one child or three children (respectively) in Guatemala for one year. 
For every "FEED 1 Guatemala" pouch and "FEED 3 Guatemala" bag sold at Lord & Taylor stores in the U.S. and online, FEED will donate $3.50 or $10.50 respectively to the U.S. Fund for UNICEF to help support UNICEF's nutrition programs in Guatemala.
The bags are handmade by Nest, a nonprofit organization that empowers female artists and artisans around the world.  The Guatemalan Nest artisans use their traditional Ikat fabrics to make the handy "FEED 1 Guatemala" zippered pouch and the sturdy and sizable "FEED 3 Guatemala" tote bag.  The variety of colors and woven patterns reflects the vibrant Guatemalan culture and gives each customer an array of colors and patterns to choose from.  Thus the purchase of the bags celebrates the traditional crafts of Guatemala and supports women artisans, while also generating funding to help UNICEF provide micronutrient supplements to children so they grow up stronger, healthier and better equipped to move beyond extreme poverty.
The "FEED 1 Guatemala" pouch and "FEED 3 Guatemala" tote retail for $19 and $39, respectively. Both can be purchased at Lord & Taylor stores in the US and online.  
Disclosure: A FEED 3 Guatemala tote was provided for editorial consideration.
Like this post? Don't miss another one!
Subscribe
via my RSS feed.