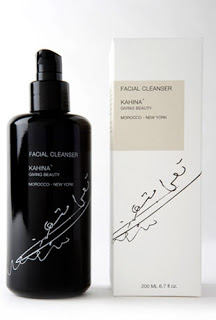 The What's On Your Vanity Series showcases a single beauty item a blogger loves because it's effective, but also she feels she must keep out on top of her vanity because the gorgeous packaging must be displayed.
Dena Smolek writes a beautiful blog that's just as much eye candy as it is informative called D~Luxe List. Her on-vanity item of choice? Kahina Giving Beauty's Facial Cleanser. Here's why, in her words:

In addition to the pretty panoply of fragrance bottles, there are a select few beauty products that are worthy of being outside of my overflowing bathroom drawers. For the record, I do have a fab antique Art Deco vanity that belonged to my great-grandmother. Underneath the stool she wrote the date April 26, 1940, presumed to be the date she got it, and 36 years later the date of my birth! Seems it was fate that this beautiful vanity eventually became the possession of a beauty writer (moi). But that's another story…
So, all of the gorgeous bottles that used to sit on my vanity are now on my bathroom countertop—out of reach from my toddler's curious little hands. Kahina Giving Beauty's Facial Cleanser is among the prettiest of bottles that I keep out on display. I'm sure an "oh and awe" whispered from my lips, as I opened this package. The sleek black glass bottle now sits atop my bathtub for easy access when I soak. It's made from recyclable violet glass (which acts as a natural preservative for the product). I'm happy to report that you can absolutely judge this bottle by its packaging. I love the modern simplicity of the design and the formula is 99% organic. Plus, 25 percent of the profits from the sale of this product are given to the Berber women in Morocco, who harvest and produce Kahina's organic argan oil.
Like this post? Don't miss another one!
Subscribe
via my RSS feed.