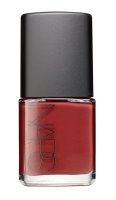 With a rebel yell- "more, more, more"
More, more, more.
Who doesn't enjoy the selected works of Billy Idol?
NARS Nail Polish in Rebel Yell ($16) is my new fave polish for fall. The hue is a dusty pomegranate that veers into pinked-off cocoa territory. It's GORGEOUS. I gave myself a mani with it on Saturday and I've received countless compliments on it. It's the perfect fall color. It practically demands that you tap your Rebel Yell-adorned nails on the recycled cardboard encasement of a pumpkin spice latte from Starbucks.