I say it all the time: I love Los Angeles, but only for four days.
I get off the plane at LAX and am enchanted by fabulous weather, legendary shopping and the general air around the place that nothing is real. By the 96th hour, it's that last part specifically that begins to tick on my sanity. NOTHING is real. And I find myself craving immediately, in no particular order:
1. A carb. For the love.
2. To see someone WORKING. In an office. Not posing as a "writer," simply because his/her original plan to be an actor/actress isn't working out.
3. Black clothing.
4. Sass/Attitude.
But Merrick New York native Michael Kors gets that initial just-got-off-the-plane/aren't-the-palm-trees-pretty? appeal of Tinsel Town with none of its cloying side effects and bottled its corresponding scent. It smells divinely of the whimsical lack of reality without beating you over the head with a stick labeled FAKE. The scent begins with top notes of mandarin and iced bergamot, has a heart of jasmine, ylang ylang and raspberry, and dries down to a creamy amber, white moss and vetiver.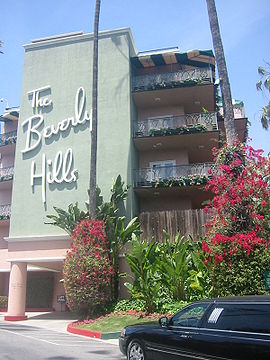 To me, it engages this part of my psyche which longs to be famous, which lay dormant until I saw The Beverly Hills Hotel. This is the place where Raquel Welch was discovered, where The Beatles swam,where Howard Hughes famously took up residence in four of the hotel's bungalows in the '40s. For more The Beverly Hills Hotel history, click here.
The perfume collection's packaging evokes 50s Hollywood glamour specifically: The Very Hollywood Collection is just as beautiful on the outside as it is on the inside. With packaging that pays tribute to old Hollywood glamour, the Very Hollywood bottle features glass flashbulb impressions on the front and back for a star-struck effect.
The collection:
Very Hollywood Michael Kors Luxe Perfume Spray ($300) *available only at Bergdorf Goodman, Neiman Marcus and Michael Kors Boutiques
Very Hollywood Michael Kors Eau de Parfum Spray ($45-$85)
Very Hollywood Michael Kors Hollywood Fabulotion ($45)
Limited-Edition Very Hollywood Michael Kors Hollywood Signature ($25)
Limited-Edition Very Hollywood Michael Kors Hollywood Gem Solid Perfume Ring ($40) *Sephora exclusive
Very Hollywood Michael Kors fragrance collection is available at select department stores, specialty stores and Michael Kors Buotiques. You can also find it online at VeryHollywood.com.
Like this post? Don't miss another one!
Subscribe
via my RSS feed.