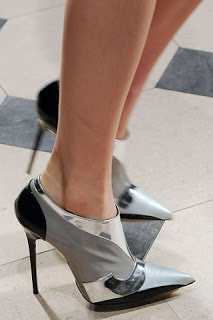 The What's On Your Vanity Series showcases a single beauty item a blogger loves because it's effective, but also she feels she must keep out on top of her vanity because the gorgeous packaging
must
be displayed.
 

Karen Robinovitz earns the description "one of my fave people on Earth," and trust me, it's not a phrase I throw around. A former magazine editor, freelance writer, author and now beauty brand creatrix, she is a paragon of fabulosity. Just this weekend, I became addicted to her latest Purple Lab product Luvah in Rich Jerk (each shade is named after ex-boyfriends of Karen's), a stunning berry stain/gloss combo. She also knows fashion like no one else I know, and for that reason, her on-vanity item is actually a pair of sick shoes. Find out which ones grace Karen's vanity, in her her words:
It's a little bit of a shrine to Balenciaga, as I worship at the altar of Nicolas Ghesquiere. There is not one thing that man makes that I would not kill for. His sense of design–both architectural and organic–is a constant inspiration. His fall 2008 collection was one of my favorites – the pvc pointy toe platform shoes in steel gray and striking silver slayed me! Sarah Jessica Parker wore them to the Chanel Zaha Hadid art opening in NYC and I had to have them. I swear, I think I called Barneys daily asking about their arrival and when they finally came, I forced myself to the top of the wait list to get my hands on them! 
Now here's the sad part: They are the most uncomfortable shoes I have ever worn and I have an enormous tolerance for pain when it comes to shoes. It's not the height – 5.5″. It's the narrowness. I have gotten them stretched to no avail. And after wearing them to a friend's dinner party, where I knew I would not have to stand for more than 20 minutes, and coming home barefoot, I had to finally retire them. So they are now on my vanity, where I admire them daily and they stand as a beacon of modern style. In a way, it's almost better than wearing them on my feet–they will never get trashed in the rain and the heels will never get nicked. I have a special blush brush to wipe away the dust just for them! They will now remain in perfect runway condition. 
Forever
Like this post? Don't miss another one!
Subscribe
via my RSS feed.