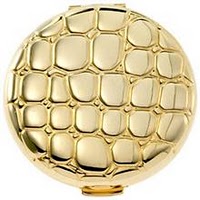 The What's On Your Vanity Series showcases a single beauty item a blogger loves because it's effective, but also she feels she must keep out on top of her vanity because the gorgeous packaging must be displayed.
My gal Dina's blog Eye4Style is a MUST-read. Not only is Dina's subtly hilarious take on all things fashion and beauty vital, the gal is also a social media genius. I frequently seek her counsel for all things accessory, facebook and cat. You know. The basics. We've already discussed her love of an (as she puts it)
an old lady compact in this post
, but she waxed poetic about it a little more for you gals here:
I consider myself a modern woman in every imaginable way. Except for my long-standing love of what I (affectionately) call "old lady compacts," that is. And no one, dare I say it, NO ONE, does the "old lady compact" better than Estee Lauder. 
While I have several of these beauties hoarded in my stash (let's not talk numbers, it just gets embarrassing), one holds a place of honor on my vanity and it's the gorgeous Golden Alligator Compact seen here.
Simultaneously classic, modern and impossibly glamorous–I can't think of a single product that I'd rather have perched on my vanity.
Di(v)na, I feel you. I have mine on display in my stu stu studio as well! Want more What's On Her Vanity? Click
here
! And tell me: What's on
your
vanity?
Like this post? Don't miss another one!
Subscribe
via my RSS feed.