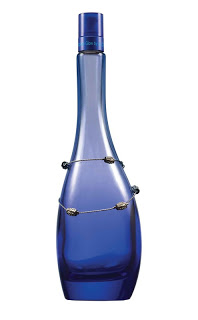 Another day, another celeb fragrance. This time, it's Jennifer Lopez.
Blue Glow by JLo, Jennifer Lopez's latest fragrance, which will launch later this week.  Sumptuous floral unites with fruit and warm, sensual wood for Blue Glow by JLo. (P.S. I thought we weren't calling her that anymore? Anyone know definitively whether the JLo nickname is still on?) Anyway, taking a cue from Glow by JLo (obv), this fruity floral scent channels the mysterious ocean in a curvaceous bottle washed in a deep blue hue. 
Jennifer added a personal touch to the fragrance with a sexy anklet, which adorns the bottle. Fragrance plus jewelry is a major theme of 2009/2010, n'est-ce pas?
Top Notes: Mangosteen, Valencia Orange, Red Current Blossom
Mid Notes: Wild Water Lily, Shimmering Water Accord, Vintage Rose, Vanilla Orchid
Base Notes: Cedarwood, Mahogany Wood, Florymoss, Venezuelan Tonka Bean
The Blue Glow by JLo Collection:
Eau de Toilette – $32 (1.0 oz/ 30 ml)
Glistening Body Lotion – $27.50
The Blue Glow by JLo Collection will be available April 2010.
Like this post? Don't miss another one!
Subscribe
via my RSS feed.