About the brand's name, yeah. That's what I said, too. "'Scusey whaty who? Jelly Pong Pong?" But don't knock this UK-based line, which is in equal parts whimsical and fabulous. Before you worry that you won't be able to get your hands on it in the U.S., rest assured that Jelly Pong Pong products can be shipped to anywhere in the world (For the U.S., there's a $7 shipping fee). Founder Susan Chyi has really cornered a niche: a cosmetic fantasia of gorgeously packaged makeup confections that really deliver. A couple of my fave items from this indie line: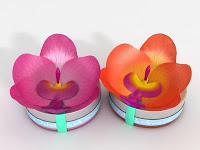 The Lip Orchid Set (£12)
This duo boasts buttery glosses that reside in a pot on which lives a gorge orchid. Won't busting these out your purse on a crowded subway bring a smile to your facial–even if you DO have to travel to and from work practically in a stranger's armpit? I think so.
Mascara And Lash Extensions Set (£15)
Well I certainly know what I'm rocking next time I hit up Musical Monday at Splash with Jim. This all-in-one kit has everything you need for instant glamour. It contains a super lengthening black mascara (it contains rayon for drag queen length) and fierce lash extensions. Be warned, these aren't for wallflowers. These lashes are more dramatic than the dramatic part of Genesis' In The Air Tonight. Don't say I didn't warn you.
Both items are from Jelly Pong Pong's One Swipe & Go Collection. You know. As opposed to their Fabled Dreams & Beautiful ThingsCollection. Because in a world of so many disappointments–side note, I KNOW from disappointment. Just this weekend, I was explaining to the clerk at Bloomingdale's that I was looking for a grey dress, a LIGHT grey. When I told her I wanted it to be grey like Pee Wee's suit in Pee Wee's Big Adventure, she looked at me as if I had ten heads. I was CRESTFALLEN. So, yes. As I was saying, in a world of disappointment where things like THAT occur, can't we all agree that a little lift in the form of a lively, feminine beauty product can infuse a little life into an otherwise humdrum day?
Like this post? Don't miss another one!
Subscribe
via my RSS feed.