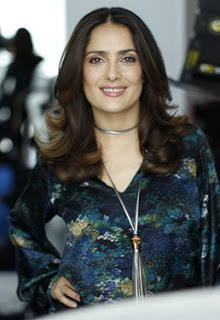 Salma Hayek's launching a beauty line! And the world collectively says–what took you so long? Though a bust cream may be a better product for her to be tied with (seriously, her rack is the stuff of dreams–I'm criminally jeal), her beauty brand will launch in CVS and online.
Salma discussed how she aimed to create a line to honor her grandmother's beauty secrets, a cosmetologist who studied at Vichy Labs in Paris, and who also combined Native American and Mayan remedies into her potions. According to WWD, "Ingredients used by her family, some not even known to top chemists, are cornerstones of the collection and range from familiar rosewater to the more obscure tepezcohuite."
Said Salma to WWD, "I took three years off my [acting] career to work on this. This is not something that required 14 hours. Nooo, baby. This has been a full-time job."
Read the full article at WWD.com.
Like this post? Don't miss another one! Subscribe via my RSS feed.