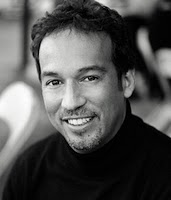 This week, I got to catch up with Academy Awards Makeup Department Head and Olay Celebrity Makeup Artist Bruce Grayson. He'll be very busy this evening managing the green room's makeup touch-ups before and during the 2010 Oscars. Learn everything from how he creates a five-minute face to what products he goes drugstore for, below.
Beauty Blogging Junkie: Are you working on any celebrities yourself?
Bruce Grayson: My team and I will be touching up most of the presenters and nominees. The event is four hours long, and most actresses get ready three hours before they get in the car. So they're never completely fresh throughout the length of show. That's why people come backstage, there's a lot of freshing up going on.
BBJ: What are the top makeup trends for the 2010 Oscars?
BG: The sultry smoky eye, which best part of face forward. This year, we'll see a more translucent smoky eye, so it doesn't create SO much shadow. It can be easily achieved with translucent greys, soft plums. More sheer. I'm loving the new COVERGIRL smoky shadow blast colors. It comes with two applicators. Just do two swipes, blending with fingers or a qtip and you're done.
Pinky coral colors for lips is the second trend. Really vivid corals , either matte or glossy. I loved January Jones at the 2010 Golden Globes. That look was all about skin prep. Also key is getting your skin in shape the weeks before. To do this, I love the Olay ProX Professional treatment like their intensive firming mask and serum. Together, they give a potent dose of anti-aging ingreditents.

BBJ: What are some of your favorite trends?
BG: Fresh skin, that's not too dewy but dewy enough. Sheer washes of blush, Giorgio Armani Sheer Color Fluids are a great way to get this look. I tend toward cream blushes look more like skin. Like you've been out in the cold. It's texture more than a color. Underneath eyes, I recommend reducing puffiness the Olay Regenerist Anti-Aging Eye Roller, put concealer on and use Laura Mercier Secret Camouflage Concealer. I try to talk women out of wearing to much makeup.
BBJ: Let's talk about getting glam on a budget: When should you save and when should you splurge?
BG: Lipstick is a telltale item, so it's a good place to splurge. Pull out the YSL for that. Mascara is another splurge: Lancome Definicils is the best, it makes each last look independent of each other. For volume: Diorshow is best for a clumpy volumized look. Giorgio Armani fluid foundations is the third necessary splurge. It stays put with a sheer wash of color and comes in so many shades.
You can certainly save on skin care. The Olay Regenerist Anti-Aging Eye Roller is a bargain and depuffs eyes like a dream. The COVERGIRL Smoky ShadowBlast is mistake proof. For $7, why wouldn't you carry it around in your purse?

BBJ: What are your tips for 5-minute makeup application?
BG: Olay Anti-Aging Eye Roller

Concealer

Mascara

Caribe Vanilla Lip Balm:

This is a gem I found in a health food store. It conditions and boasts a healthy sheen. It's all natural, created with pure shea butter.
BBJ: What are the top five "dos and don'ts" for getting red carpet-ready?
BG:

Dos:

Focus on one element of the face. Those are the looks you you think about days after the event. It needs to be simple. Not too matchy matchy. Your eye can't focus on the total package.
Don'ts:

Too many layers of reapplication throughout the day negates the sheer that it says on the package. Use blotting papers instead.
The too black smoky eye: You can't even see pupils. This tends to happen frequently at the Grammys. Not too heavy on the eyes. Seeing a shift toward translucent sultry smoky eyes. Where you can see through the color on the lid. Frame eye with more brightness.
People tend to combine ALL colors of a palette at once, which can look bad. Dior five-color shadow palettes are good, if you're set on doing five colors. I usually use about three colors for depth. But there's nothing wrong with using just one color. It's all about simplicity. Start with eye color, do lashes, then stop and see if you need more. If you need more, do a pin-thin line across lashes.

Cake eyeliner black eyeliner by Laura Mercier

is a favorite. All liner does is pull the lashline together: It pulls it close to the lashes.
Thanks, Bruce! Can't wait to see tonight's beauty looks on the red carpet.
Like this post? Don't miss another one!
Subscribe
via my RSS feed.