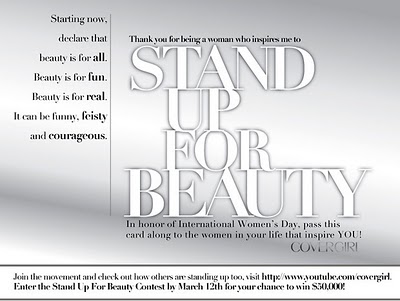 CoverGirl recently announced a new campaign called Stand Up For Beauty. It's all about embracing the fact that that pretty can be funny, feisty and courageous–that what makeup does for you on the outside can be positive, even on the inside. I love that the brand created this campaign to celebrate the fabulousness of beauty. They're acknowledging that it's not always hip to love beauty. There are so many times when beauty's been denigrated–the '90s comes to mind. But it's important to me–and its honor needs to be defended. Because, in the words of Carol, "beauty is like pornography–you know it when you see it."
To that end, the brand is giving away $50,000 to beauty fans for standing up in what they believe in. Create a video, one minute or less showing how you stand up for the power of beauty. Yours truly participated in the promotional video along with some other well known beauty and fashion gurus, including the fabulous Molly Stern, the hilarious Ellen DeGeneres and my gal Polly Blitzer. I'm in good company, n'est-ce pas? Check it out.
Submit your video to COVERGIRL!
Like this post? Don't miss another one!
Subscribe
via my RSS feed.