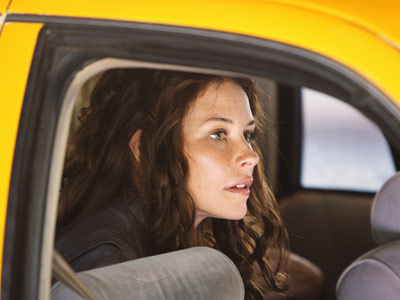 Hey my geequals! SPESH post today. My gal Emily Katz, Makeup Department Supervisor for LOST (and my favorite makeup artist to interview–and I'm not just saying that because we probably are related if you trace our heritage back to the shtetl) generously provided yours truly with some MORE answers to all my burning LOST beauty questions, specifically geared toward the makeup of Season 6. Ready to find out? Read on, Losties!

Beauty Blogging Junkie: What are your favorite products you used in season 6?


Emily Katz: OK I've got a dozen of them…literally. Although some of these are by no means the newest products on the market, I seem to be utilizing some of them more this season, others are just such standards we use them every day. So far:
Kumaara concealers




Actifirm Hot Stop aloe based gel

heals sunburn FAST

MAC Moistureblend Cream Foundations and MAC Matte Bronzing Powder

Make Up For Ever HD powder

Julie Hewett's Cheekies in Natural & Nars the Multiple in Portofino

I find these becoming my standard go-to creme blushes, they're a kind of unifier…they work on almost everyone, and I can add a powder on top to bump it up for the flash-sideways. Off-island is what we use the Nars for- it has a bit of shimmer that camera picks up. We always want to go for the most realist raw look on the island and still look beautiful ! It's television!

Cargo Blu_Ray High Definition Mattifier

for the flash-sideways looks. It works for so many skin colors and keeps the shine down, has a silky silicon base that glides on and diminishes shine without looking built up.

Clinique Black Honey Almost Lipstick

( off island)

Estee Lauder's new Doublewear Eye Pencils

they hang on and come in great colors… if it doesn't drip under the eye here in Hawaii, chances are good it won't in Los Angeles!

Mario Badescu's Enzyme Gel Cleanser

It takes off ALL the fake tan, dirt, sunburn, sweat, grime and leaves skin soft. Plus it smells good after the day's work. We're about good smells…after being in the jungle.

Boscia Willow Bark Blemish Gel

– it dries clear; makeup easily glides over it

Benefit Dr. Feelgood

[One of my all-time FAVORITE items!] has come into play this season, albeit not new. LOVE it; really helps mitigate pore size.
BBJ: Did you mirror the makeup used in Season 1 in the flash-sideways/alternate world shown in Season 6?

EK: We mirrored it as closely as possible, keeping in mind that the actors look a bit different than Season 1. I came on board in Season 3, so using continuity shots from Season 1 was essential, and also relying on the actresses' incredible memories for what comprised their looks really helped.
BBJ: What are your latest favorite sunscreens? Lip balms? Any indigenous Hawaii products you've fallen in love with during your sojourn there?
EK: Regarding Hawaiian products–Island Essence lotions–I love them, but don't use for the show due to the scents (i.e., the bugs go into a feeding frenzy). My faves are the Mango-Coconut and White Ginger scents. The lotion is absolutely natural, no parabens and feels exquisite.
I've just discovered my latest favorite extremely high SPF screen: Neutrogena Age Shield SPF 90 (and 70). It goes on sheer and does not give the whitish cast like so many of the higher numbered screens. It's lightweight, doesn't have that "icky" cloying feeling especially in the humidity and it WORKS, Neutrogena Sheer Touch in SPFs that range from 30-55, Jan Marini Antioxidant Daily Face Protectant SPF 30 (we LOVE the smell, too), Jurlique Sun Lotion spf 30, Clinique Body SPF 50 and Face SPF 50, Clinique Spray pump SPF 30, Aveeno spray and Neutrogena sprays in SPF 50-70, Banana Boat Active Sport Spray SPF 30 (we fondly call it "the orange bottle").
For lips, I love B. Kamins Bio Maple Lip Balm SPF 20, still love Chapstick–the moisturizing kind with the blue label has been very popular this season, the classic black kind and whatever version anyone prefers. I find the blue label moisturizing one to have a nice slip, and not the old fashioned waxy heavy texture. In this climate, it seems that the tube style lip balms hold on better than ones in a little pot. It's also easy for an actor/actress to pop it in their pocket if they are a distance away from the makeup artists on set for the scene so it makes life easier for everyone. And in the heat, there's less melting into a liquid that can drip somewhere we don't want it to.
BBJ: We certainly wouldn't want that. Do you have any beauty rituals you yourself indulge in over there?

EK: Oh yes! I love skincare! Daily, I use Jan Marini's Bio Glycolic cleanser alternating with La Mer's Cleansing Gel, Jurlique's Cleansing Foam or Cetaphil, after that–a brand new La Mer product: The Regenerating Serum ( not launched yet) and for day: Sunscreen, Lately I've been using PCA's SPF 30 face and body. It's not too whitish, doesn't make me break out and isn't oily, Jan Marini's sunscreen (above) or for heavy sun exposure the Neutrogena Age Shield. I'm finally getting a Clarisonic. I even have the NuSkin 'lifting' device ! Eye cream is usually B.Kamins or La Mer Eye Concentrate day and night.

For nighttime instead of sunscreen, I use La Mer Moisturizing Gel Cream, B.Kamins Revitalizing Booster Concentrate or Cetaphil lotion, depending on location/climate. And I use Jan Marini's Transformation or Pevonia Botanica Ligne soin o2tinal Creams alternately as well. Jan Marini Lash Eyelash Conditioner is also a staple (it WORKS to grow lashes and doesn't burn my eyelids!!!!)

I indulge in a weekly peel with Actifirm's Z-peel, and masque with B.Kamins Bio-Maple Booster Blue Masque .I did mention I love skincare, right? [I feel that, Emily! It seems we not only have the same name, but the same skincare obseshes.]

For makeup I'm much more minimal! Cargo Bronzer powder, DuWop Doubleglow Cheek Cream, Clinique Quickliner Eyeliner, quick swipe of eyeshadow, lipstick.
If I need a base I use La Mer The SPF 18 Fluid Tint (yeah, big fan of La Mer), for more polish or dressing up I add Cargo's Lash Activator Mascara (helps grow lashes!) with Benefit SheLac, Chanel Poudre Douce powder and Julie Hewett's Bud of Rose blush. That's it.
BBJ: What's different about the makeup/products you use this season compared to last (if there is any difference)?

EK: There hasn't been a wide variance from previous seasons to now. We incorporate new products as they come along if they perform as well or better than what we've been using. This really has been a laboratory for product efficacy.
BBJ: What is your favorite thing about working on LOST this season?
EK: Some of the new characters, so many of the "old" characters are back–it provides a sense of camaraderie, sort of like a "Band of Brothers" feel… we've been through an amazing experience/ride! I've been privileged to work with some amazing, talented people on this adventure! And a big shout-out to an amazing team of makeup artists that have contributed their talents to this show. Some really great folks!
BBJ: Aw, it sounds like a closely-knit group you guys have over there! What is most challenging?
EK: The episodes are like a movie… each one… so there's a phenomenal amount of work in a prescribed limited amount of time.
BBJ: What's next for you?
EK: I'm in a definitive shift to broader arenas in the cosmetics industry. Part of my vision is to be the personal makeup artist for someone with whom I have a flowing, instrinsic rapport so we can truly enjoy one another while doing some amazing work. We spend a lot of lengthy, concentrated time with people on set; I truly want to be in league with someone I am aligned with on many levels. Another focus is moving forward to other arenas. Most specifically: Working with a major brand cosmetics/skincare company as a spokesperson/celebrity artist. Perhaps even assisting in developing new products and training that are needed and wanted in the marketplace on a worldwide basis. I would love to do teaching seminars internationally. Currently working on a product project (not a cosmetic or skincare product per se) that I am very excited about. It is relevant to my industry, so I'm looking to the day when I can present that. I will let you know when it is ready to introduce to the world! I'd also like to work with women to demystify the makeup process. It is also my wish to help broaden the definition of beauty by empowering women to eschew media ideals/creations of what is beautiful or perfect, of what is perceived to be the "norm" and to authentically express their beauty. That is my heart's desire. I would love to do so internationally, and be very well remunerated!

I look forward to hearing more about your projects, Emily! You know I'm on a need-to-know basis when you do… pretty much anything. And I think you'd make an excellent spokesperson or product developer. Your wealth of knowledge of this industry is astounding. A humongo thank you to Emily for always answering my many emails while she's busy working on-set! I, along with America, am very curious when it comes to LOST–but I feel I can address at least some of burning LOST questions (for instance, Emily provided a definite answer that Richard Alpert is NOT rocking guyliner) as they relate to makeup. And that, friends, is half the battle.
BOOM.
(That was me simulating the epic crash sound that happens at the end of each episode).

Like this post? Don't miss another one!
Subscribe
via my RSS feed.