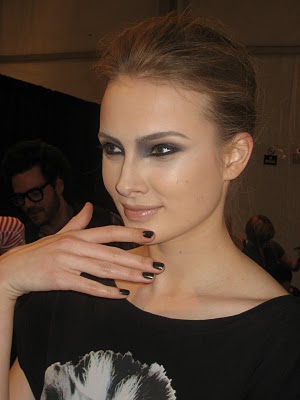 It was all about the duality of romantic and tough backstage at Tony Cohen's Fall 2010 Collection at Fashion Week. Makeup lead Napoleon Perdis focused on skin that was fresh, which he achieved with his new Swiss-created Napoleon Perdis Autopilot Serum. The best way to apply your skin care? "Using a brush to apply your skin care is a way to exfoliate dead cells simultaneously," Napoleon advised. The strong, smoky eye with a clean inner edge was amped up with a new German mascara Napoleon showed me with a tiny, flat rubber brush/comb combo applicator. A new caramel nude lipstick/gloss combo with gold flecks in shade Lee Ann, named after Napoleon's daughter completed the look. Lastly, Napoleon spritzed on his new Autopilot spray containing hyaluronic acid to refresh and bring moisture back to the skin. "It works like a humidifier on dry skin," he explained.
Stacey Child from Cutler lead the hair team to create a French twist with volume in the front. An edgy thin thread of leather was woven throughout the twist. "It's intended to look as if the gal did it herself," Stacey said of the look. To achieve the 'do, Stacey used Cutler Volumizing Spray, Defining Cream on the ends and Redken Workforce 09 all over for hold.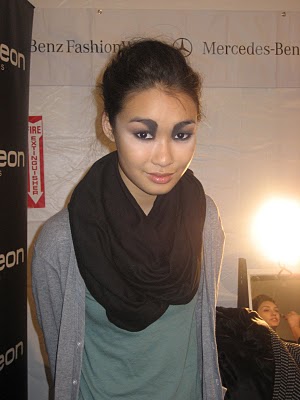 Nails were adorned with China Glaze in Gussied Up Green, followed by a coat of Seche Vite Top Coat. This shimmery green is the first polish Tony Cohen's used at his show. "It's intended to peek through the black lace gloves some of the models will be wearing," said lead nail tech Julie Kandelec.
I love that French twist. What do you think of this look?
Like this post? Don't miss another one!
Subscribe
via my RSS feed.