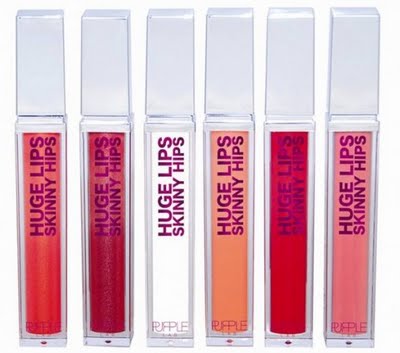 Dolls, if you aren't rocking Purple Lab NYC's Huge Lips Skinny Hips Gloss, I don't know what you're DOING all the time.

Purple LAB Creatrix, yogi, and fellow raised-in-a-non-sugar-householder Karen Robinovitz decided there should be a lip gloss that curbs the appetite whilst plumping your pout–and thus, Huge Lips Skinny Hips was born. Lest you think Karen is trying to convince you you'll simply gloss up your lips and the weight will fall off, be assured that the name is very tongue-in-cheek/chic.
And sidenote? Living in NYC, you meet a bevy of blondes (and even brunettes!) who think they're Carrie Bradshaw. Anyone who's held a pen, has ever been single, has or does not have curly hair claims to be "JUST like her." After seven years of living here, the comparison becomes more cliche than… a bunny eating a carrot. However, this former magazine editor/journalist/author who rocks better shoes and designer duds than Mrs. John Preston herself not only is the sole New Yorker I've met worthy of the moniker, her fabulousness DEMANDS the title.
Let's discuss the gloss, shall we? This nonsticky lip lacquer contains Hoodia, an all natural appetite suppressant–it targets the part of the brain that tells you you're full by mimicking the effects of sugar. HLSKH also plumps without pain thanks to active ingredient Vitamin B3. Former med student Karen also slipped in some orange peel extract, which is a natural metabolism booster.
My favorite part? The gloss comes in six fabulous shades that reference Karen's favorite icons and general gorgeous things. To name a few: Red Sole is inspired by her love of Christian Louboutin heels, Worship Kate is a tribute to her fascination with Kate Moss, Kitty Poledancer reflects her dancing predilection, and Lychee Martini is a shout-out to her cocktail of choice.

More deets on the full spectrum of shades:
Goji Berry Smoothie – NEW for fall! It's named after Karen's fave breakfast treat
Kitty Poledancer – Nudish Pink Sheer
Red Sole – Sultra Sexy Fierce Red
Very Very Sheer…a bee stung look
Lychee Martini – Soft Peach-Like Apricot.
No Panty Lines – Clear as Crystal.
Love Your Thighs – Exotic Coral, but still translucent.
Worship Kate – slightly darker pink with hints of mauve & shimmer.


Karen recently hosted a tweet-up to introduce a select group of bloggers to the new Goji Berry shade (which is a soft berry pink, pictured at left) held at the GORGEOUS feng-shui'd out home of the fabulous Libby Weintraub.
Libby is a yoga instructor and did a mini class with the group while The Didge Project provided instrumentals. For the mini class, we donned Hard Tail yoga pants and pre-ate some sugar free chocolate! Fourth generation psychic Linda Lauren ended the night with a handwriting analysis of each attendee that impressed me with its no-way-she-could-have-known insight. All in all, a fantabulous night out. I left feeling rejuvenated and relaxed for the first time in MONTHS. I then proceeded to feng shui my entire apartment, starting with plugging up my drains (I don't need my money flowing right through them!) a la Libby.
Huge Lips Skinny Hips Gloss retails for $20 at b-glowing.com, blissworld.com, Scoop NYC, and Fred Segal.
Get you some of that, stat!
Like this post? Don't miss another one!
Subscribe
via my RSS feed.