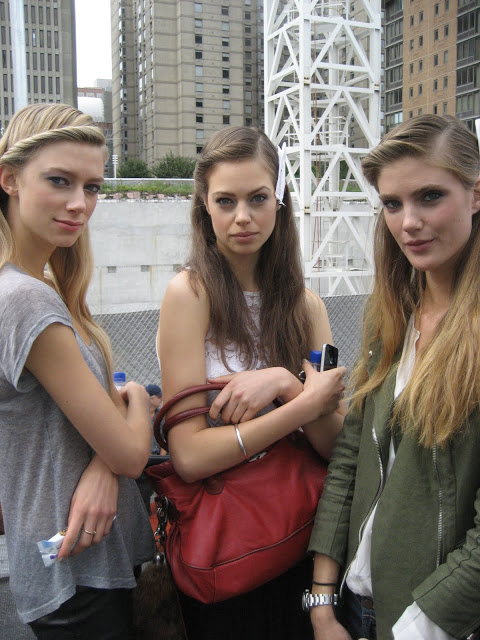 3 models I snapped on their smoke break outside. Score! Credit: moi!
BBJ Nation, The Rat Pack/'60s Vegas Culture was actually a kind of common theme backstage this season. Lela Rose's interpretation of it was not so much one of glitz, but certainly one of glamour. Read on…

Tina Turnbow for Bare Minerals went for a makeup look that was based on an antique rose beauty concept mixed with some silver. Says Tina, "The rose blush and spring pink lip [Charisma Pretty Amazing lip liner and Wild Honey Lip Gloss] makes it wearable." Navy blue liner defined the inner rims of the eyes (top and bottom) mimicking the greys and blues of the collection. A spring pink lip in a warm gradation toned down the metallic silver lids (created with Mingle all over the lid, with Bliss on the center)  and gave the look an overall tarnished, antique-y feel. Tina then filled the brows for a bit of boldness using Bare Minerals brow powders, which come in a blessed six shades. Skin was dewy, healthy. Concealed where necessary with Bare Minerals Foundation. Highlight Shimmer Bliss was applied to the tops of the cheekbones for "pop," while Mineral Veil was used to matte out the T-zone.
Ted Gibson created a GORGE hairstyle was very textured, not polished, with a little bit of structure. He created a twist going most of the way around the hairline. "The twist is the new braid," deadpanned Ted to me backstage. It started with a side-part to open up the face. Then, he twisted a small section of hair in the front, starting at the part and went all the way around to the mid-nape before pinning the twist to secure it. Sort of like a twist headband. To prep the hair before twisting and shouting, he used Build It Blow Dry Spray and Tame It Shine Lotion to tousle the hair and Beautiful Hold to set it and forget it. Stated Ted, "Every girl is used to kind of wearing a braid in her hair, but this is another alternative to having a braid. It's not too complicated, and that's how hair should be."
Deborah Lippmann helped the models nail it with her gorgeous silver/gold hybrid Believe, created in conjunction with Vegas victor CHER. "It played off the Vegas vibe perfectly," said Deborah. The shimmering old beige nail is a departure for Lela.
What do you think of this look?
Like this post? Don't miss another one! Subscribe via my RSS feed.