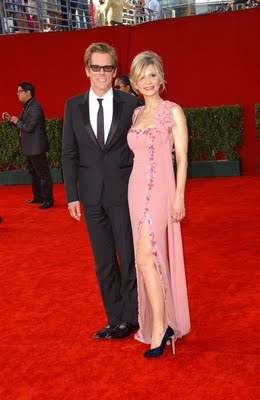 Kyra Sedgwick's look by P&G Beauty makeup artist Jake Bailey
· The look was fresh: glowing skin, bright peachy cheeks, stained lips and ultra lush, lengthy lashes
· For the eyes I kept the focus on lashes. It was a daytime red carpet and I wanted Kyra to be fresh and glamorous. Smoky eyes and heavy shadows can be gorgeous, but super black, super long lashes are a great way to look and feel glamorous during the day without looking overdone. I used lots of COVERGIRL LashBlast Length mascara on the top and bottom lashes. The ultra long skinny brush makes a precise application with lots of length super easy. Make sure you start at the very, very base of the lash line, wiggle the brush and pull outwards to the tips. Glide over lash tips over and over to build maximum length
· On Kyra's skin I used a sheer veil of Chanel Teint Innocence liquid foundation to complement rather than disguise her natural complexion
· On her cheeks I used COVERGIRL & Olay Simply Ageless Sculpting Blush in Plush Peach. It contains Olay Regenerist Serum which adds an amazing moist glow to cheeks. The best way to apply cream blush is with a small round fluffy blush brush same as you would with a powder blush. Swirl onto the apple of the cheek and blend upwards and back along the cheekbone. For a super natural look and easy application, just apply with your fingertips.
· I wanted Kyra's lip color to last all night so I opted for a lip stain rather than a lipstick. This is a great trick for a long night because you can do a bright lip without having to worry about it staying in place. I used COVERGIRL Outlast Lipstain in Bit of Blossom. I recommend tapping your fingertip on the felt tip applicator then tapping that pigment onto your lips for a slightly bitten "this is my real lipcolor" look. For extra shine throughout the evening, I gave her a sheer peachy gloss from Clarins.
Like this post? Don't miss another one!
Subscribe
via my RSS feed.