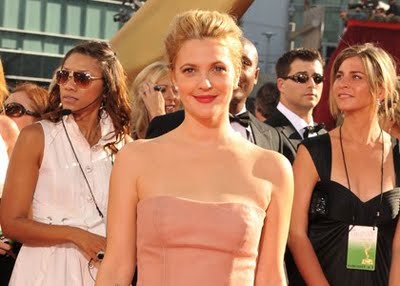 Drew Barrymore
's 2009 Primetime Emmy Look, by celebrity makeup artist
Debra Ferullo
· The look was classic, feminine and beautiful, with a bold lip, pinky cheeks and long lashes, a modern Grace Kelly.
· I started by prepping the skin with a moist sponge and La Mer Moisturizer. It's always best to moisturize damp skin, so it can soak up the moisture. Then, I added La Mer Concentrate to act as a primer and set the skin for the makeup application.
· On Drew's skin I used just a touch of foundation to make sure her skin shined through. If you don't need a lot of coverage, I suggest selecting a foundation that is a perfect match for your skin and use sparingly. For the cheek, I started with a pinky cream blush over the cheekbone and then set it with a peach powder blush to add some shimmer.
· For this look, we focused in on Drew's perfectly proportioned lips and played up her shape with a velvety, matte pink lip color that really popped. When prepping the skin, be sure to apply a balm to the lips so that they are moist and soft in time for the lipcolor application.
· For the eyes, we wanted to offset her bold lip with soft shimmer and ultra long lashes. I dusted her eyes with Chanel Silky Eyeshadow in gold and then played with warm colors like brown and maroon in the crease area. I didn't want any lines, just depth, so I went over her eyes with a cream at the end to soften the look. Then, I used COVERGIRL ExactEylights Eye Brightening Liner in Vivid Ruby around the lash line to subtly enhance her shape. To play up her feminine look and classic set eyes, I used three coats of COVERGIRL LashBlast Length Mascara to give her a beautiful fan of extra long lashes from corner to corner. To keep the look natural, I used one coat of mascara on her bottom lashes.
· To create this look at home, start of slow and build from there. Keep the skin fresh. If you tend to need heavier coverage, use a foundation with more pigment to cover any spots but make sure it's not too oily because it will crease along the skin. Define the cheek and blend, blend, blend to create a soft, classic look.
· Drew brought Outlast Lipstain in Berry Smooch with her to keep her bold lip vibrant throughout the night.
Like this post? Don't miss another one!
Subscribe
via my RSS feed.