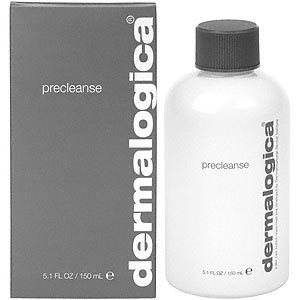 Dermalogica Pre-cleanse is an olive- and apricot oil-infused concoction that melts through excess sebum (oil), waterproof makeup, dirt and general debris you want out of your lifestyle at bedtime. Don't be disturbed by the fact that it's an oil: It still works wonders on ALL skins, oily included. My epidermis skews normal-to-oily, trust. Just make sure to apply to a dry face and then watch with delight as your makeup FALLS off.
My skin was recently diagnosed by Haven's Stalina as oily but dehydrated and this stuff followed by an acne-fighting cleanser (Dermalogica Medibac Clearing Skin Wash is a longtime BBJ fave) has actually CHANGED that. It even fares well on sensitive skin. The only thing I'd change is the packaging. Every night, I fumble with the lid and end up losing some product through the spaces between my fingers as I struggle to screw the cap back on whilst holding a dollup of Pre-cleanse in my hand. But other than that? Aces. This cleansing oil is straight up ROYAL.
Dermalogica Pre-cleanse retails for $34 at Dermstore.com.
Like this post? Don't miss another one!
Subscribe
via my RSS feed.