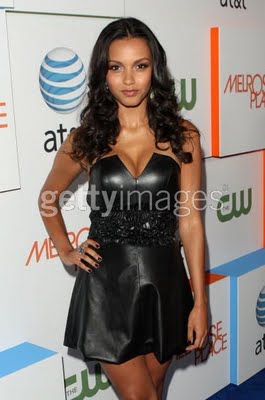 Celeb makeup artist
Brett Freedman
created a gorge look for Jessica Lucas for the premiere party of the WB's new
Melrose Place
this past weekend. Am I the only gal who cannot freaking WAIT for this? I'm anxiously awaiting the KIMBERLY SHAW TAKES OFF THE WIG moment of the post-millennium edish of MP. You?
Since Jessica plays the good gal of the building (the Courtney Thorne-Smith character's vibe from the original) she wanted to get a little nicely naughty for the red carpet. Setting the stage with a cleavage baring black leather mini dress Brett worked to make the gal next door look more like the gal guys WISHED lived next door. Enter the sweet vixen…
Foundation:
LORAC Natural Performance in Light Tan and Tan
Brett wanted a finish that gave Jessica's flawless face a little framing so he used two subtly different shades. He used the darker shade along her jawline, up the sides of her face and along the hairline. Then he used the lighter shade down the middle of her face. This trick sets the stage for her eyes.
Loose Powder: COVER GIRL TruBlend in Translucent Honey
This finely milled powder leaves. Never flat or too matte.
Concealer:
LAURA MERCIER Secret Camouflage in SC-4
Brett tend to use a lot of duo products for skin. It lets you customize the end result with the ease of two shades in the same formulation. He used the deeper shade all over to perfect Jess' under eye area. Brett then took the lighter shade just along her lash line and the inner eye to give extra crispness and brighten.
Brows:
VANITYMARK Ultra-Brow Pencil in Dark Choco
Any time Brett do a very ornate eye make-up, he ensures the brows can hold their own against the vividness. Jess' arches got optimum definition by filling in between hairs with this shade that is one step lighter than her actual brows. This adds structure and drama. Brett actually made her brows a touch fuller by defining them slightly above her actual brow line. He then blended with a spoolie to feather and soften so it was undetectable where her brow ends and the theatrics begin.
Brow Gel:
VANITYMARK Ultra-Brow Glaze in Acrylica
To further the fullness Brett brushed the brows up and out with a touch of brow glaze. Gives gorgeous crispness and polish to her arches.
Eyeshadow:
JEMMA KIDD quad in Plum
Brett loves the range in this quad and wanted to give Jessica a smoky eye with a outward, structured sweep. Brett chose plums for the eyes mainly because it went well with a berry/violet lip. He used the darkest shadow shade with a wet brush on the outer corners to give a crisp line that once dried, you could blend/soften with a pointed brush. The lightest shade has a touch of shimmer so it worked great on her brow bone to highlight.
Liquid liner:
WET 'n WILD MegaLiner in Black
Brett likes the tiny brush, it makes extending the liner easier to build on. He took Jessica's eyes to their vampiest by taking the 'wing' up and out to the max. This is the easiest way to sex up your eye for night!
Lashes:
VANITYMARK The LASH
Mascara in Blackest and Faux Lashes: ARDELL #120
in black
Brett loves the way this style gets a touch longer at the ends and the hairs are slightly sparse so the natural lashes can mix in seamlessly. Brett gives faux lashes a pump with the lash curler once the glue is dry to 'marry' them with the natural lashes. Then apply a coat of mascara over to comb and blend them together further. This extra step is not a time saver but it's def priceless!
Lipstick:
MAC in Up the Amp
This lavender-ish shade gives lips a flush of modern pigment without the heaviness of other lipsticks.
Gloss:
BENEFIT in Clear Fuchsia
To give a little bad girl shine Brett used a this shade to 'warm up' the lipstick and give a juicy cast of color.
Body Glisten:
VANITYMARK Shimmerskin in Champagne Shimmer
Brett gave Jessica's beautiful late summer glow a light catching amp-up. He used this cool/golden hued shimmer spray on all exposed skin and a touch extra on her shoulders, collar bones and down the front of legs to make them more pronounced for maximum pop. It's coconut scented so it fit the oh-so-sexy feeling in the air.
Image credit: Getty Images
Like this post? Don't miss another one!
Subscribe
via my RSS feed.