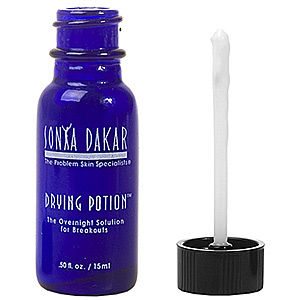 My major maladjustment with 94.2% of acne creams is that they a) don't WORK and b) don't smell medicinal enough. So when I tried out Sonya Dakar's epic Drying Potion ($25), I prepared myself to be unimpressed. But! I used this stuff last night on this vile little life-ruiner that popped up yesterday afternoon and there's a dramatic deflation happening on the landscape of my face today. My fave aspect of this cream is that it's thin enough to blend an undetectable tiny dot onto skin under your makeup so you can treat blemishes during the day, as well. It eradicates your skin of oil and blemish fodder the way Mega Maid ridded Planet Druidia of air in Spaceballs.
Hailed "Hollywood's secret weapon," this clinical-smelling (yay!) emergency formula treats zits and even helps to prevent those below the surface ("ingrown zits," as I call them). It's made with Dead Sea sulfur to reduce puffiness, pure lavender and chamomile to calm, sage to disinfect and peppermint to stimulate bloodflow.
Because evidently, if you still like to listen to teeny bopper music (my personal choice is Miley Cyrus), talk on the phone about boys, and spend an inordinate amount of time in the bathroom primping (I eventually had to just move into my own APARTMENT), you'll be plagued with the dark side of adolescence as well: zits.
But at least there's ammo in the form of Sonya Dakar Drying Potion.
P.S. Sonya Dakar makes fantastical body products, as well. Check this review of her Nourishing Body Oil.
Like this post? Don't miss another one!
Subscribe
via my RSS feed.