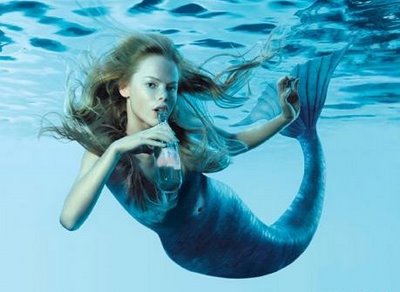 I'm happily ensconced at
The Standard
hotel. The service is fast (I ordered a latte to my room and it came in about ten minutes), the people are nice and the hotel room decor is
70s elementary school chic
(in a good way!), while the lobby's famous for its
nautical quirky mermaid (gl)ambiance
. I'm into it. I feel as if I'm very…
part of that world
! One of my frequent "beauty themes" I channel (when I'm not doing retro Hollywood, which is the ush) is
Sassy Water Nymph
. Thus, I feel very at home here. I managed to see the live mermaid in the tank last night when I came back from shopping with
Sydne Summer
, who's a DOLL. M ore on that shopping trip later. Here's a teaser: she took me to a sale of Sharon Osbourne's designer stuff from her "England house," and I bought a SICK pair of ruffly black patent
Marc Jacobs heels
for $80. Sharon must have worn them twice at the most. They're AMAZE. I'm so glad Sharon Osbourne and I rock the same SIZE.
Speaking of mermaids and their lack of legs, Don't forget to check in with me on
Twitter
today to read my thoughts on some gals who most certainly DON'T lack legs. Check my live-from-the-red-carpet special "legs" edition tweets sponsored by Gillette Venus today beginning at
3pm PST
(aww, I'm so California ALREADY! I'm going to make you
do the math
for EST). Also, be sure to become a
Gillette Venus fan
on the brand's
Facebook page
.
I'll gammunicate with you then!
Like this post? Don't miss another one!
Subscribe
via my RSS feed.