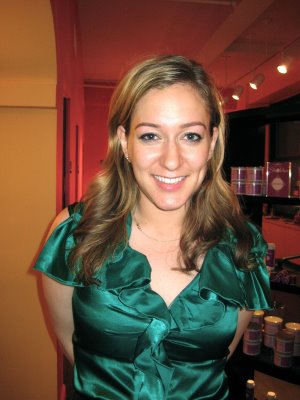 Check my new Anjali-fied brows!
Last night, I headed over to
Shobha
at 3 Columbus Circle for their "Shobha de Mayo" party, where I consumed a
Shobharita
and a bunch of delish Indian foods, hung out with
Marina
 and
Carolyn
, AND left about 50% less hairy (thanks to my threading and a
bikini sugaring treatment with
the fab
Rachana
. I'll discuss the latter in another post) than I'd arrived. A rather victorious Monday night, n'est-ce pas?
When I sat down for a threading ($20) in Anjali's chair, she assured me I was in good hands as she trains the entire staff at Shobha. I wasn't worried, by any means. But I've been seeing Reshma at Perfect Shape on 39th and 6th for about 5 years now–and while Perfect Shape is not the fanciest place on earth, Reshma did a decent job with my fachachta, too-far-apart, not big enough, two-different-shaped brows. I'd come to accept the fact that I was never going to like my brows. But Reshma made them acceptable. It's just something I'd accepted. The fact that I even just dropped Reshma's name and address means I'm totes over her, BTW. Normally, I keep that shit under wraps because there is a line out the DOOR for her. She's decent and cheap ($8), which takes you far in Manhattan.
But anyway. I'm 100% involved with Anjali now because she literally rebalanced my FACE with my new brows. We were BOTH astounded at the difference. She elongated them, moved the arch closer to the ends of the brows, and made them look–wait for it–THE SAME. I was amazed. It is so worth the extra expense. Anjali is even a mini-celeb in India, per Heather who does graphic designing for Shobha. She has her own Martha Stewart-esque show where people can call in and ask her questions. Take heed, gals. She's an EXPERT. I LIKE my brows. Not just TOLERATE them. For the first time in my lifestyle. She even showed me how to draw on brow pencil along the top of the brow in straight lines, then along the bottom, then at a diagonal along the tail in a downturn motion. And that's it. Dina and Marina also left looking gorgely groomed and fabulous as well, lest you think this was some sort of once-in-a-lifetime miracle. Do yourself a favor and go see her and her disciples at Shobha!
Like this post? Don't miss another one!

Subscribe
via my RSS feed.