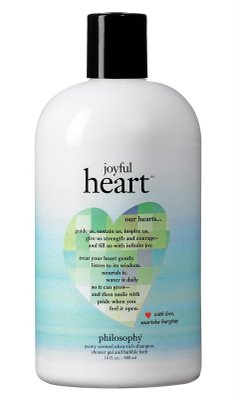 EPIC night, friends.
Last night, Carolyn, Emily, Dana and I were invited on behalf of Philosophy to attend The Joyful Heart Gala held at Terminal 5. Cristina Carlino, founder of Philosophy, is Corporate Chair of the charity and invited us to sit at her table (a total honor, dolls) but in a crushing twist of fate, was too sick to make it to the gala. Cristina, we missed you and hope you feel better!
The Joyful Heart Foundation was founded by Mariska Hargitay in 2004 to support survivors of sexual assault. Jennifer P. Goodale, Chair of the Joyful Heart, shared her own story of being raped in the '70s, how she's made it her mission to help surviors like her. She then introduced Linda Fairstein, Vice Chair of the foundation and former prosecuter who put away the man who assaulted Goodale. I can't even express in words the courage these women have and how inspiring it is that they are so committed to this cause–one that is vital, but is so uncomfortable for people even just to discuss.
The event was intense and moving, but truly spectacular.
Debra Messing
hosted (
Ted Gibson
–you did a FAB job on her hair. It looked
stunning
.),
Chris Meloni
,
Mariska Hargitay
and her spicy husband
Peter Hermann
presented, as did
Ice T.
"This is a fancy affair," Ice T announced when he began his speech. "I like it."
Sheryl Crow
performed. Amid the star-studded crowd, I spied
Hilary Swank
,
Thom Filicia,
and
Julianna Marguiles
. The creator of NBC's branded series
Law & Order,
Dick Wolf
, was honored for his role in inspiring the founding of Joyful Heart and in celebration of
SVU
's 10th year.
How can you help support this wonderful cause? Via beauty! Philosophy is launching two new products available on
philosophy.com
to support the
Joyful Heart Foundation.
The Joyful Heart 3-in-1 shampoo, shower gel and bubble bath
($20) and
body lotion
($24) have a peony scent–a beautiful blend of fresh, floral fragrances that come together to create the ultimate feminine shower gel and lotion. Just as the joyful heart foundation is committed to healing the mind, body and spirit of sexual assault survivors, the luscious shower gel and lotion will help you clear your mind, cleanse your body and lift your spirits with every use.
100%
of the proceeds from the sale of these two products will be donated to the Joyful Heart Foundation.
For more information on the Joyful Heart Foundation, visit www.joyfulheartfoundation.org. Stay tuned for photos from the event!
Like this post? Don't miss another one!
Subscribe
via my RSS feed.