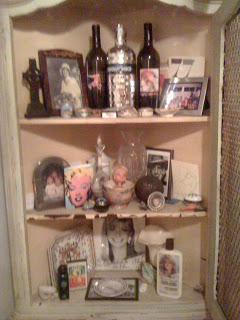 On Monday night, I went to my friend Jim's apartment to enjoy some cosmopolitans, play with his chihuahuas Penny and Lola, discuss blogging and listen to the new Britney album whilst eating snacks. You know, the ush. Obv, I was quite taken with his fabulously gay armoire (pictured, left) which greets you as soon as you enter the apartment.
Among its contents are an autographed photo from Cheryl Tiegs (bottom shelf, back), a disco ball-inspired bottle of Absolut Vodka (top shelf, middle), specially Madonna-branded bottles of wine (top shelf, along either side of the Absolute bottle), an Andy Warhol Marilyn Monroe card, and lastly – the BEST thing EVER, a REAL bottle of Farrah Fawcett Creme Rinse that was actually sold in the '70s. Check it below, it's a bit larger. Is it not THE FABULOUSNESS? I felt like I was in a MUSEUM. The best part is that it STILL SMELLS coconuty. Can you even? I can't. Dolls, that shit is older than I AM.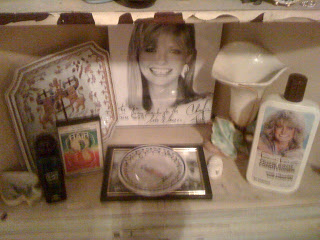 Also during my visit, Jim educated me about Feng Shui, which I'd previously incorporated into my lifestyle only in tiny aspects. I complimented a mini crystal disco ball hanging in the doorway of his bedroom and he told me that faceted crystal balls hung in the bedroom doorway is a romance inducer. I was like, "Jim, I need one IMMEDIATELY. " You won't believe this: Jim was all, "Oh, I have an extra one! I'll give it to you!" and proceeds to dip into his CONTAINER of disco balls in varying sizes (can you even?) and gives me my OWN mini crystal disco ball which I naturally hung up in my apartment the minute I got home. He also advised that you should put something yellow in your "wealth corner," which is the southwest corner of your home. I haven't found a yellow item worthy yet, but I'm on a mission to find it, install it, and wait for the money to come pouring in. Jim should be a Feng Shui consultant, n'est-ce pas?
I'm so making 2009 the year I lose the "sha" (bad energy) and seize the "chi" (good energy). Have any Feng Shui tips? Tell me in the comments!