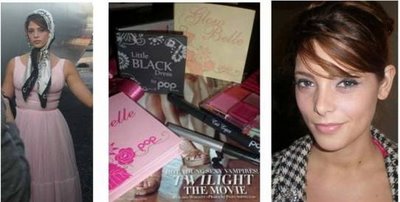 For a recent photo shoot, POP Beauty Makeup Artist Victoria Rowe created a lighter take on Ashley Green's mysterious character (Twilight's fashion forward vamp, Alice), drawing inspiration from Audrey Hepburn. Armed with POP Beauty products, a vintage dress and a gorgeous day, Victoria crafted a look resminiscent of the original gamine herself.
Victoria used Rose Belle Blush ($28), the sheer pink glow of Glow Belle, Cat Eyes in Onyx ($16) and In-Liner in Black for authentic Audrey eyes, the light nude and lighter shades from Little Black Dress, the taupe brown shades from Little Brown Dress, Magnet Eye Primer ($18), and a combination from Kiss Mix in Berry.
Ashley is gorge to begin with, but I have to admit, she channels one Ms. Audrey Hepburn quite well. What say you? Tell me in the comments!