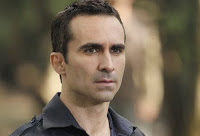 Special treat, gals!
You know how I feel about LOST. Imagine my delight when the show's MakeUp Department Supervisor, Emily Katz, agreed to an interview about all things beauty on my fave show. From now until the week leading up to the January 21st season five premiere, I'll be posting the interview in installments.
Here's the first juicy tidbit!
Beauty Blogging Junkie: Spill: what eyeliner IS Eyeliner Richard, a.k.a. Richard Alpert who is played by Nestor Carbonell wearing?

Emily Katz: Nestor Carbonell who plays Richard Alpert has no makeup on his eyes! He is of Cuban descent and is naturally blessed with the thickest set of lashes I have ever seen in my career. Women should envy him. It's truly unbelievable; we have to try to diminish them ! And yet, he is the NICEST man as well.

Can you believe, gals? All this time, I've been referring to him as Eyeliner Richard – and dude's not even wearing a touch of liner.
Stay tuned for the next installment!
Image credit: IMDB