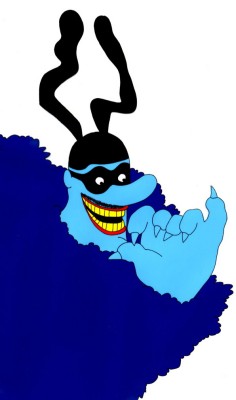 The Beatles' feature animated film, Yellow Submarine, came out in 1968. We had it on VHS in the '80s and BOY did it get a workout in our fam VCR. My brother and I watched it over, and over and over. It helped instill in me, at an early age, a healthy appreciation of The Beatles.
I was simulataneously fascinated with and terrified of the Blue Meanies. Since I've rewatched the flick as an adult, I now realize the most terrifying thing about them is NOT that they roll 60-deep, are violent, and are friends with an enorm glove that shoots people like a gun. No. I'm irrationally frightened of their yellow teeth. If that doesn't scream villain, I don't know what does. Observe:
You know? They'd look a million times better if they'd lose that lipstick (I mean, I realize we're talking about cartoon characters here, but that red only exacerbates the issue.) I recommend two items for whiter teeth, stat: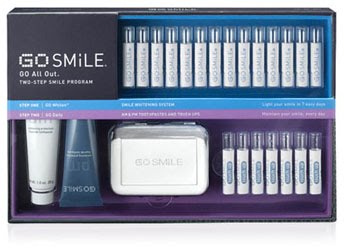 Go SMiLE Go All Out Deluxe Set ($120) This kit features the entire two-step smile program in a single package. Yes, it's splurgy, but use it for seven days and you will see a difference.
The set includes:
14 ampoules for seven days
Seven mint Touch Ups to keep your smile white and freshen breath
Go SMiLE AM and PM toothpastes with aromatherapy essential oils
I keep the Touch Ups on me in the included silver case for maintaining my situation, especially post-coffee or red wine.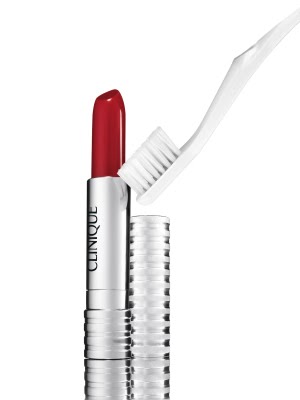 High Impact Lip Colour SPF 15 in Red-y To Wear ($14) Clinique has done the work for you and enlisted the help of a dentist to identify 12 lipstick shades (including Red-y To Wear, pictured above) that instantly make teeth look whiter. These shades are proven to make teeth look at least one shade brighter–it was confirmed using a dental colour guide. The 12 brightening shades include:
High Impact Lip Colour SPF 15 in After Party
High Impact Lip Colour SPF 15 in Go Fig
High Impact Lip Colour SPF 15 in Peach Pop
High Impact Lip Colour SPF 15 in Red-y To Wear
Butter Shine Lipstick in Cranberry Cream
Butter Shine Lipstick in Raspberry Rush
Butter Shine Lipstick in Pink-a-Boo
Different Lipstick in Ice Bloom
Different Lipstick in Raspberry Glace

Long Last Lipstick in Twilight Nude
What are your whitening tips? Tell me in the comments!
Like this post? Don't miss another one!
Subscribe
via my RSS feed.