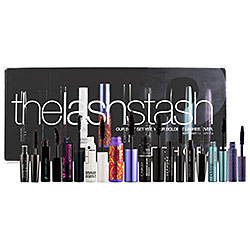 1990 was such a good year.
It was the first year of the '90s, obv, and as such, had more of an '80s feel to it. The hair was still big. Crimpers hadn't yet been laid to rest. It was the year of so many fantastic pop culture masterpieces, such as Pretty Woman. ("Don't you just love Prince?" "More than life itself.")
Anywho, 1990 was sort of the deathrattle of

New Kids on the Block fandemonium

. Well, for others, not so much for me, as I'm still very much an NKOTB groupie. But the group went out with a bang, with their final hit ditty,

"Tonight,"

referencing several of their best hits like "Hangin' Tough," "Right Stuff," which I believe was Maurice Starr's nod to a similar "best of" round-up by The Beatles, "Glass Onion."

Similarly, Sephora's The Lash Stash kit does "best of sampling" one better with their

limited edition

set of their best "mascara hits." This set packs

10

of Sephora's best selling

lash luxe-ifyers

in smart travel sizes.

BT dubs? Usually travel sized makeup is… depressing, as makeup is typically a compact item ANYWAY. But this stuff is pretty genius because lots of mascaras provide ample opportunity for "new mascara days," which are the day you open a NEW mascara for the very first time. Because the tube has never been exposed to air, the mascara is wetter and less clumpy than any other time you use it. You know? So small mascaras are phenom because instead of feeling gypped by the small amount, you're encouraged to go get yourself a new one before yours dries out and becomes icky on your cils. The best part? You get to get in touch with your inner beauty editor and test drive ten of them for only $35. Perhaps this would be a fab gift for your beauty junkie bestie?

The kit includes:


– 0.12 oz Smashbox Bionic Mascara


– 0.10 oz Sephora Atomic Volume Mascara


– 0.11 oz Vincent Longo The Curl Mascara


– 0.10 Tarte Lights, Camera, Lashes 4-in-1 Mascara


– 0.13 oz Too Faced Lash Injection Pin Point Mascara




– 0.10oz Make Up For Ever Smoky Lash Mascara




– 0.32 oz Urban Decay Big Fatty Mascara


– 0.13 oz DuWop Lash Venom Mascara


– 0.13 oz Korres Deep Colour Mascara




– 0.17 oz Cargo Texas Lash Mascara
Try it out. Maybe la la la la la la tonight?