"Love the bag, love the shoes, love everything."
—
My Best Friend's Wedding
's George Downes
That quote pretty much sums up how I feel about Clinique High Definition Lashes Brush then Comb Mascara ($14). Last night, I attended a Clinique Mascara event, where Twiggy lookalike and makeup artist Cheryl introduced me to the sublimity that is High Def Lashes and I am so hooked. One coat glides on with the brush half, then, a second separates each lash with the comb side. The result is drag queen chic lashes that go on for DAYS.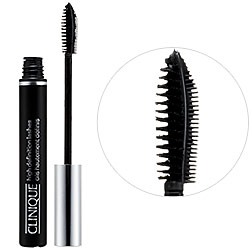 Cheryl created a divine look (see pic above) with a water nymphesque color palette into which, I normally wouldn't delve. I usually stay in the "warms," shadow-wise. It's Clinique's Colour Surge Shadow Trio in Ebb and Flow ($21). Then, she used a fab "greige" cream liner – Clinique Brush On Cream Liner in Smoke Grey, to be exact. To get a perfect cat eye every time, Cheryl recommends you aim to angle the liner tip a little above the real corner of your eye. It should be aligned with the end of your eyebrow, if you were to take a pencil and place it diagonally from the corner of your eye to that point. The liner should end slightly above the corner, but would fall along the transversal of the pencil. You with me? Also, dig out a bit of the liner with the OTHER end of the brush (the handle) and apply it to the back of your hand. Then, dip your liner brush into the dollup of liner so that you don't load up too much onto it, as you could if you were submerging the brush into the jar. Works like a charm! Lastly, Cheryl applied some peachy pink blush and then dabbed on a bit of loose powder using her hands. It's the "Clinique method," she told me.
Cheryl also advises you to chat up your local Clinique sales associate, but make sure to mention you're planning to purchase something. They're happy to help you and provide guidance, but so many people want makeovers and advice for free and these gals are working on commission. If you plan to go for a little Q&A sesh exactly when your Superbalm in Lilac has run out and you need to replenish it, it'll make a huge diff.
P.S. My somewhere-between-golden-blonde-and-Edward-Cullen-copper highlights are courtesy of Miss Jane at Hiro Haraguchi this weekend.